Return to Headlines
U-46 To Welcome Assistant Superintendent of Equity and Innovation 
Feb. 21, 2020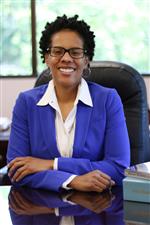 School District U-46 announced Friday that Dr. Teresa A. Lance will join the District July 1, 2020 as the Assistant Superintendent for Equity and Innovation. In addition to leading the equity work, Dr. Lance's role includes oversight of innovative strategies and programs across the state's second-largest district.
"We look forward to welcoming Dr. Lance and are excited to tap her experience and expertise," said U-46 CEO Tony Sanders. "We have set a foundation for our equity and innovation work but Dr. Lance will help us move this important work forward so that we better meet the needs of each and every student."
Dr. Lance leaves Thornton Fractional High School District 215 as their Superintendent, a position she has held since July 2018.
During her time at District 215, Dr. Lance helped decrease out-of-school suspensions, decreased racially-disproportionate expulsions, and out-of-school suspensions. She also led the Lansing-based district to increase Advanced Placement courses from seven to 14 and introduced AP classes freshman year for the first time. Dr. Lance also reprioritized dollars to build teacher capacity through internal and external professional development course offerings. She increased communication with families through social media platforms, direct email, and outreach events such as "Soup with the Supt."
Prior to moving to Thornton Fractional, Dr. Lance served as the School Leadership Officer (Assistant Superintendent) for Harrison School District Two in Colorado Springs, Colorado. In that role, she oversaw elementary and secondary principals, supervised instructional coordinators K-12, managed multiple departments including Gifted, College and Career, Special Education, and English Language Learners. She began that position in 2013.
Dr. Lance served as a Senior Turnaround Consultant for the American Institute for Research from 2011 to 2013 before being recruited to Harrison School District Two.
Dr. Lance served as an Educational Specialist for MD Anderson Cancer Center in Houston, Texas, and spent two years as a Principal of the Community Education Partnership, a grade 6-12 alternative program, also in Houston.
Her career in education began in Baltimore City Public Schools in Baltimore, Maryland, beginning as a teacher in 1995, then advancing to the role of Assistant Principal from 2001 to 2005, and then as Principal from 2005 until her move to Houston in 2008.
Dr. Lance earned her Bachelor of Science Degree in physical education and her Masters of Science in health education from the State University of New York at Cortland. She earned her Doctoral Degree in educational leadership from the University of Phoenix and a Graduate Certificate in school administration and supervision from Johns Hopkins University.