Return to Headlines
U-46 Staff to Attend Professional Development on Teaching the Holocaust
Jan. 20, 2023
As part of professional development for teachers being held on Friday, Jan. 27, a group of U-46 high schoolers will conduct a table reading of a play based on the accounts of Holocaust survivors. The professional development session coincides with International Holocaust Remembrance Day.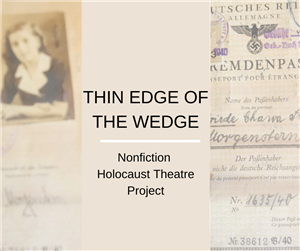 The play, "Thin Edge of the Wedge," was written by Phyllis Zimbler Miller, a 1966 graduate of Elgin High School. It is based on first-hand accounts she published, and interviews she conducted, while working as a reporter and editor for the Jewish Exponent, an English-language weekly newspaper in Philadelphia in the 1970s.
In addition to featuring survivors' stories, the play also includes characters whose brave acts saved lives during the Holocaust.
"The whole project is not only about learning about the Holocaust but also to encourage young people to speak up about anti-Semitism and all hate," said Miller, who now lives in the Los Angeles area but will be making a trip to Elgin to attend the table reading. "By having kids do staged readings, they really are able to feel the stories."
The professional development session will be attended by all U-46's high school Language Arts, social studies, and theater teachers. Illinois requires that each public elementary and high school include in its curriculum a study of Holocaust history.
Representatives from the Illinois Holocaust Museum will also be present to discuss how teachers can use the museum's digital and physical artifacts to allow their students to see history through the eyes of those who experienced it.
Teachers will spend time after the presentations collaborating on how to best utilize these primary and secondary sources in their class lessons. The focus will be creating rigorous lessons that encompass the Illinois State Board of Education's Social Studies Perspectives standards and Language Arts standards centered around character, theme, and supporting main ideas with textual evidence.
About a dozen students active in South Elgin High School's theater program will be conducting the table read on Jan. 27. They are also performing it at a free event open to the public on the evening of Thursday, Jan. 26, at Congregation Kneseth Israel in Elgin. Students from SEHS's Beacon Academy of Media and Digital Arts are filming the table reads, interviewing Miller, and making a trip to the Illinois Holocaust Museum to create a short documentary. Reservations are requested for Thursday night's event. Learn more here.
Jan. 27 was chosen by the United Nations General Assembly as the designated International Holocaust Remembrance Day because it was the date of the liberation of the Auschwitz-Birkenau concentration camp complex in 1945.