Return to Headlines
#U46FirstDayReady: Safety and COVID-19 Protocols for the 2022-23 School Year
Este mensaje se repetirá en español
Aug. 12, 2022
Dear U-46 Parents and Guardians,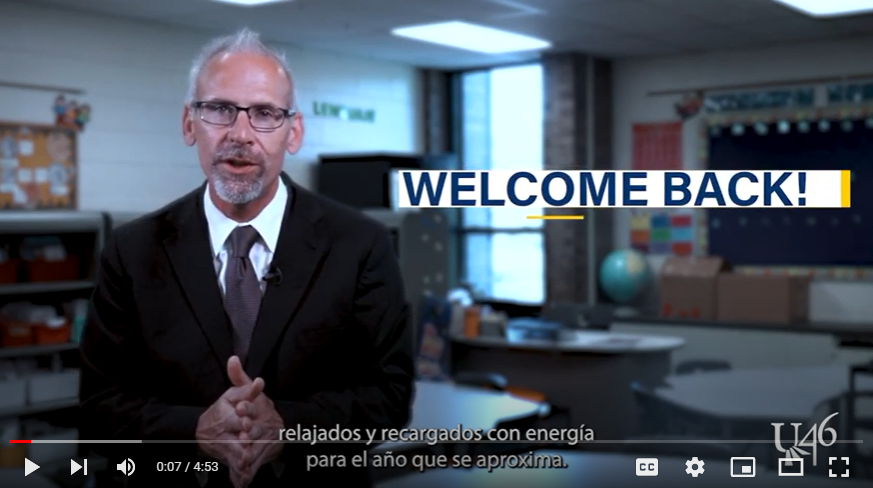 As we look forward to the first day of school - Tuesday, Aug. 16 for our kindergarten through 12th graders and students in Transition programs - U-46 is planning for a school year that will feel more in line with those pre-pandemic. To watch a welcome message from Superintendent Dr. Tony Sanders, please click here.
This week's #U46FirstDayReady message has some important information to share with you on topics of safety, student expectations and COVID-19 protocols.
Before we dive into these topics, please know that schedules and classroom assignments for U-46 students are now available to view in Infinite Campus.
School Safety
----------
A safe school is a place where learning can occur in a welcoming environment free of intimidation, violence, and fear. School District U-46 is dedicated to providing a safe environment for children so they can focus on learning and growing. As part of this work, our School Safety department leads the District's efforts to create positive working relationships with local emergency responders and social service networks, among others; provide professional development opportunities on topics of safety and security to administrators, teachers, and staff; and develop, evaluate and update school safety plans. As in previous years, all employees and students will be required to wear IDs this school year in a visible location, and the Raptor visitor management system will be used to screen and track those visitors who enter our schools. All exterior doors are locked and will be checked throughout the school day. Emergency preparedness drills will be conducted at all schools as well. For more information, please visit u-46.org/schoolsafety.
Student Expectations
----------
The 2022-23 Student Handbook and the Code of Conduct aim to clearly outline our expectations and policies for students. The Student Handbook is posted on all our school websites as well as here on the District website; the Code of Conduct can be found here. Please ensure you have reviewed both and make some time to discuss them with your child.

COVID-19
----------
Our Health Services team gave an update on COVID-19 procedures and protocols to the U-46 Board of Education on Monday, Aug. 8. You can view the presentation here or watch the meeting here. More information can be found on our COVID-19 site, but these are a few of the most important details:
The easiest way to maintain a healthy school environment is for students and staff to stay at home and recover when ill. Please be aware of the symptoms of COVID-19, monitor your children, and keep them home if they are sick. Students who show COVID-19 symptoms while at school will be placed in an exclusion room until their parents or guardians can pick them up to take them home.
As we start the school year, masks will be encouraged but not required. Social distancing will be encouraged to the extent possible.
At this time, the District will be putting a pause on SHIELD testing for students and/or employees as we look into other voluntary testing options. You can order free COVID-19 tests here, and some insurance carriers offer at-home tests at no contest. Check with your insurance provider for details.
Students and staff who are identified as having one or more COVID-19-like symptoms or receive a positive test for COVID-19 will be excluded from school. They may be eligible to return beginning on Day 6 under certain conditions, including agreeing to wear a well-fitting mask while indoors and around others through Day 10. Visit here for a full explanation of the updated exclusion timeline.
As we have since the pandemic began, U-46 will follow guidelines from our local, state and federal health agencies and will continue to share information and resources with our families.
As always, thank you for your time and consideration. Any questions, please use our online customer service tool Let's Talk.
We are looking forward to a safe and healthy 2022-23 school year, full of learning, growth, and engagement for our students.
School District U-46
P.S. We would like to invite families to participate in our 2022 First Day social media campaign on Tuesday. Simply use #U46FirstDay2022 when posting your child's first day photos on social media for the District to share these special moments.
---
#U46ListoParaElPrimerDía: Protocolos de seguridad y COVID-19 para el año escolar 2022-23
Estimados padres y tutores legales del Distrito U-46,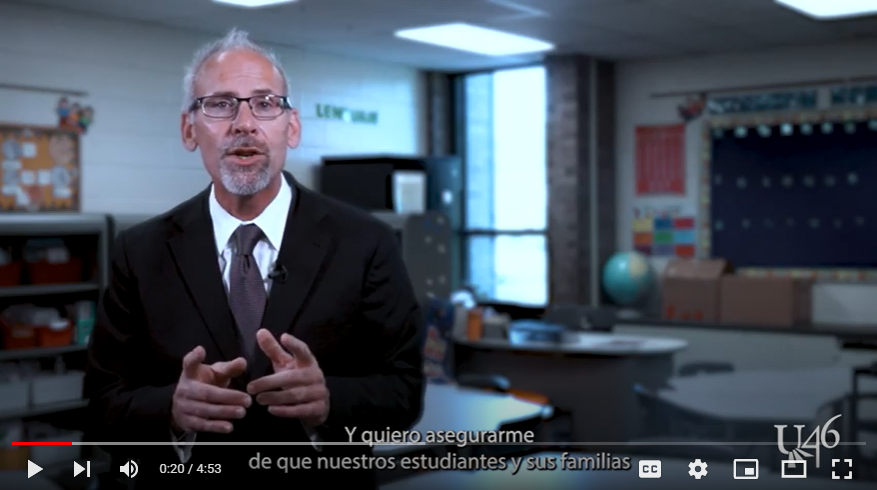 Mientras esperamos el primer día de clases - el martes, 16 de agosto para nuestros estudiantes de kindergarten a 12º grado y estudiantes en programas de transición - el Distrito Escolar U-46 tiene planeado un año escolar que se sentirá más parecido a los años antes de la pandemia. Para ver el mensaje de bienvenida del Superintendente Dr. Tony Sanders, haga clic aquí.
El mensaje #U46ListoParaElPrimerDía de esta semana tiene información importante para compartir con ustedes sobre temas de seguridad, expectativas de los estudiantes y protocolos de COVID-19.
Antes de pasar a estos temas, es importante saber que los horarios y las asignaciones de clase de los estudiantes del Distrito U-46 ya están disponibles en Infinite Campus.
Seguridad Escolar
----------
Una escuela segura es un lugar en el que se puede aprender en un ambiente agradable y libre de intimidación, violencia y miedo. El Distrito Escolar U-46 se compromete en proveer a los niños(as) un entorno seguro donde puedan dedicarse a aprender y crecer. Como parte de este trabajo, nuestro departamento de Seguridad Escolar se encarga de crear relaciones positivas con los departamento de servicio de emergencia en nuestras comunidades locales y las redes de servicios sociales, entre otros; ofrecer oportunidades de desarrollo profesional en temas de seguridad a los administradores, maestros y personal; y de desarrollar, evaluar y actualizar los planes de seguridad escolar. Al igual que en años anteriores, este año escolar todos los empleados y estudiantes deberán llevar su identificación puesta en un lugar visible, y se utilizará el sistema de visitantes Raptor para identificar y localizar a los visitantes que entren a nuestras escuelas. Todas las puertas exteriores estarán cerradas y serán revisadas durante el día escolar. También se llevarán a cabo simulacros de preparación para emergencias en todas las escuelas. Para más información, visite u-46.org/schoolsafety.
Expectativas de los Estudiantes
----------
El Manual Estudiantil 2022-23 y el Código de Conducta tienen como objetivo describir claramente nuestras expectativas y políticas para los estudiantes. El Manual Estudiantil está publicado en todos los sitios web de nuestras escuelas, así como aquí en el sitio web del Distrito; el Código de Conducta se puede encontrar aquí. Por favor, asegúrese de haber revisado los dos y de dedicar un tiempo para hablar de ellos con su hijo(a).
COVID-19
----------
Nuestro equipo de Servicios de Salud dio una actualización sobre los procedimientos y protocolos de COVID-19 a la Junta Educativa del Distrito U-46 el lunes, 8 de agosto. Puede ver la presentación aquí o ver la reunión aquí. Puede encontrar más información en nuestro sitio web COVID-19, pero estos son algunos de los detalles más importantes:
La manera más fácil de mantener un ambiente escolar saludable es que los estudiantes y el personal se queden en casa y se recuperen cuando estén enfermos. Por favor, esté atento a los síntomas de COVID-19, observe a sus hijos(as) y manténgalos en casa si están enfermos. Los estudiantes que muestren síntomas de COVID-19 mientras estén en la escuela serán colocados en un salón de exclusión hasta que sus padres o tutores legales puedan recogerlos para llevarlos a casa.
Con el inicio del año escolar, se recomienda el uso de cubrebocas, pero no es obligatorio. Se recomendará el distanciamiento social en la medida posible.
En este momento, el Distrito pondrá una pausa a las pruebas SHIELD para los estudiantes y/o empleados mientras buscamos otras opciones de pruebas voluntarias. Puede ordenar pruebas gratuitas de COVID-19 aquí, y algunas compañías de seguros ofrecen pruebas en casa sin ningún costo. Consulte a su proveedor de seguro para más información.
Los estudiantes y el personal que tengan uno o más síntomas similares a los de COVID-19 o que reciban una prueba positiva de COVID-19 serán excluidos de la escuela. Pueden regresar a partir del día 6 siempre y cuando cumplan ciertas condiciones, entre ellas, el uso de un cubrebocas bien ajustado mientras estén dentro del edificio y cerca de otras personas hasta el día 10. Para ver una explicación completa del calendario de exclusión actual, visite aquí.
Como hemos hecho desde el inicio de la pandemia, el Distrito Escolar U-46 seguirá las recomendaciones de nuestras agencias de salud locales, estatales y federales y continuará compartiendo información y recursos con nuestras familias.
Como siempre, gracias por su tiempo y consideración. Si tiene alguna pregunta, utilice nuestra herramienta de atención al cliente en línea Let's Talk.
Esperamos un año escolar 2022-23 seguro y saludable, lleno de aprendizaje, crecimiento y compromiso para nuestros estudiantes.
Distrito Escolar U-46
P.D. Invitamos a las familias a participar en nuestra campaña del primer día 2022 en las redes sociales el martes. Simplemente use #U46PrimerDía2022 cuando publique las fotos del primer día de su hijo(a) en las redes sociales para que el Distrito comparta estos momentos especiales.