Return to Headlines
U-46 Staff Members Work to Ensure Students Get Meals, Medication Left at School
March 18, 2020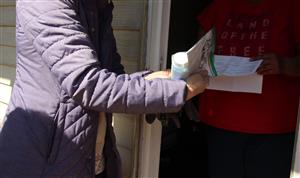 School District U-46 focused on connecting with families on Tuesday, passing out more than 4,100 meals bags - or more than 12,000 meals - to students and families, as well as personally delivering important medication to more than 40 homes.
The prescription medications, such as asthma reliever inhalers, antibiotics, and EpiPens, belong to U-46 students who use it under the supervision of nurses during the school day. Schools were open on Monday for families to retrieve medicine as they were able. With U-46 schools closed until March 31, members of the Health Services staff decided to deliver the remaining medication to homes. About 30 nurses, occupational therapists, physical therapists, and homebound teachers spent the morning putting the medicine in bags and the afternoon delivering the bags to family's doorsteps.
The food distribution was part of the District's efforts to make sure children who usually receive some of their meals at school through government efforts, mainly the National School Lunch Program, can continue to receive nutritious food while schools are shut down.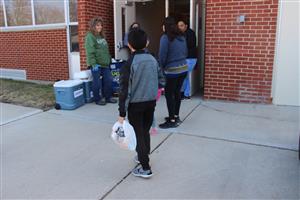 Twenty-five schools, as well as the District's central office, are serving as pick-up points. Children 18 and under receive a package containing breakfast, lunch, dinner, and a snack. No paperwork is required, and families can choose the pick-up location that is most convenient for them. Parents/guardians do not need to have their children with them to pick up the meals, and if children are old enough to walk (or drive) to school, they can get the meals without a parent/guardian present.
On Tuesday, the first day of the program, a total of 4,142 meal bags were distributed by U-46 staff including principals and members of the Food and Nutrition Services team. That equals 12,426 meals plus 4,142 snacks.
A total of 480 meal bags were distributed Tuesday at Laurel Hill Elementary School in Hanover Park, mostly to Laurel Hill and Parkwood Elementary families. Laurel Hill Principal Maria A. Lopez and Assistant Principal Deanna Micaletti extended the distribution time to help families who couldn't get there earlier due to their work hours, and ended up serving the most children of any of the pick-up sites on the program's first day. They were assisted by five members of the Food & Nutrition Services team who put in an "amazing effort," Principal Lopez said.
"With all of the uncertainty that we all are currently facing, the experience of helping distribute food to our community grounded us and reminded us of our why," she said. "Our families expressed their gratitude and shared their stories with us."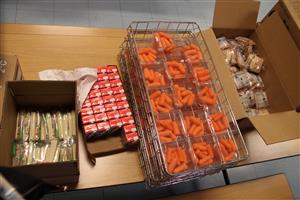 One parent, for example, said the family had trouble even finding food at the grocery store, and the meals picked up would feed the children dinner that night. A mom told Principal Lopez that she was the sole breadwinner for her family and had just been informed that she should not return to her job until further notice.
"While we are not certain as to what the long term trauma of this time in history will be on ourselves and our communities," said Principal Lopez, "we do feel a sense of comfort knowing that the collective efforts of all are at play in ensuring that the basic needs of our children are being met."
Meal pick up will continue this week from 10 a.m. to 11:30 a.m. on Wednesday, March 18 and Thursday, March 19 and on Monday, March 23; Wednesday, March 25; and Friday, March 27 next week. For more information and to find a pick-up site nearest you, visit: http://bit.ly/U46MealDistribution