Return to Headlines
U-46 Students Honored for Their Leadership
May 19, 2022
Three U-46 students were honored by Hanover Township at its annual Celebration of Leadership, sponsored by the township's Committee on Youth.
Lilly Flores, a 3rd grader at Parkwood Elementary School in Hanover Park, received the "Rising Star Award" for those in kindergarten through 6th grade. Lilly was nominated by her teacher Nanci Skidmore, who recalled that during a class discussion, her students talked about what they should do if they saw someone alone at recess. Lilly suggested that if you see someone alone, you should just ask them what they like to do. Within a day, other students in the class had made new friends on the playground, and they said they were inspired by Lilly's advice.
"Although soft-spoken, Lilly has the great skill of asking just the right questions to bring other students out of their shells," Mrs. Skidmore wrote in her nomination letter. "She is well-spoken, self-advocating, determined and ready to become the best Lilly she can be. Because of this, others look to Lilly as the person they should emulate."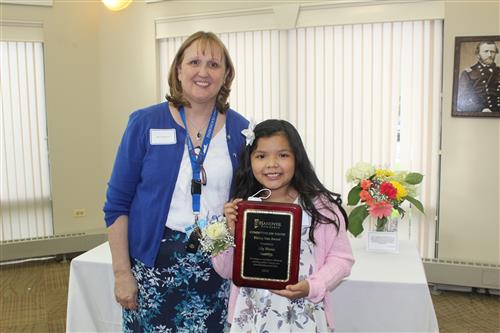 Dharthi Bezawada, an 8th grader at Canton Middle School in Streamwood, received the "Junior Leader Award" for middle school students. She was nominated by Ryan Dickinson, the Interim Director of Youth and Family Services for Hanover Township, who noted that when some of the teens who were attending township events started leaving messes behind, Dharthi was the first to encourage everyone to clean up what they were doing before moving on to another activity.
"Dharthi is a constant source of positive energy. She ensures that every voice is heard and everyone is included," Dickinson wrote. "She inspires her peers to be more considerate, because she leads by example."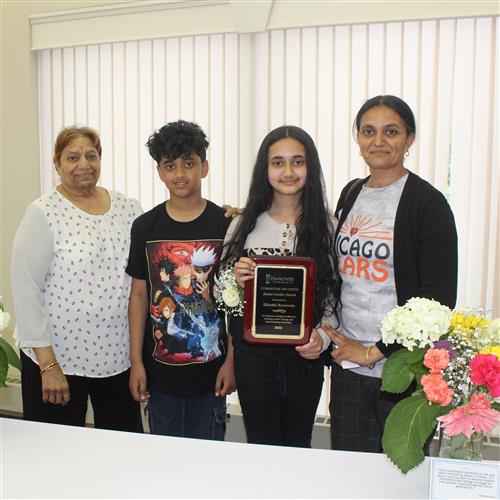 Tee Willey, a freshman at Streamwood High School, won the "High School Leader Award." He was nominated by Gisele Trujillo, a prevention specialist for the township, who said Tee is a frequent volunteer at township events and helps publicize them with fellow students and teachers.
At the Easter-themed "Hoppin for Hanover" event, Tee volunteered to be facepainter, and showed up in a clown costume, brought props, and stayed in character - leading to a long line of children who wanted to meet him!
"This shows how committed he is to making those around him feel good," Trujillo wrote. "He has brought in kids who are struggling with fitting in and has connected them with the resources we offer. He brings with him a joy and positivity that spreads to those around him."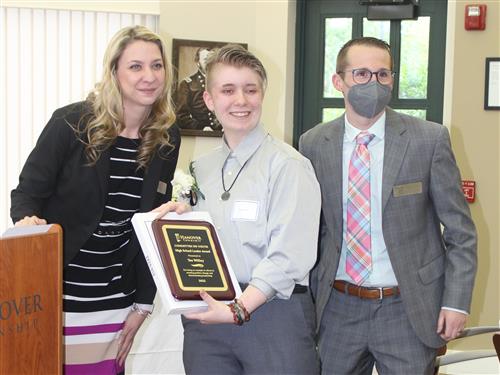 U-46 Superintendent Dr. Tony Sanders spoke at the event, which was held on May 17 at the Hanover Township Senior Center. Attendees included Board of Education President Sue Kerr and BOE member Eva Porter, Parkwood Elementary Principal Ana Lizza Arroyo and Sunnydale Elementary Principal Andrea Gaitán-Bustos, along with family and friends of those being honored.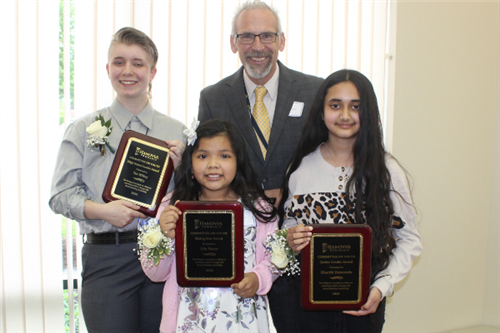 The event was catered by students in culinary classes at Streamwood High School.