Return to Headlines
Illinois State Superintendent Dr. Carmen Ayala Visits with U-46 Students and Staff
Sept. 28, 2022
Illinois State Superintendent of Education Dr. Carmen Ayala visited Creekside Elementary School and Channing Elementary School on Tuesday, praising the District's commitment to its Dual Language program and learning more about its U-46 Rising initiative.
"I love the rigor and the excellence that starts right from the leadership of the Superintendent to the teachers to the students," Dr. Ayala said. "I've enjoyed watching the students really have deep conversations and the comfort and happiness they have in the classrooms. It's a wonderful thing. I see amazing things happening here in this district."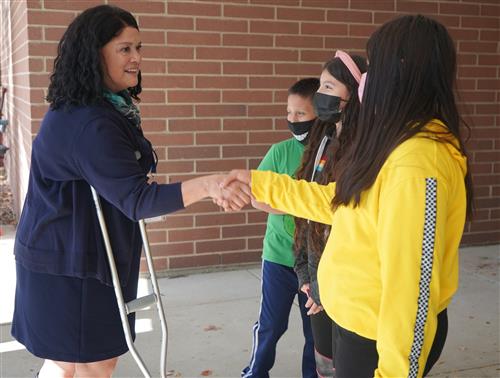 In a 3rd grade Dual Language classroom at Creekside, Dr. Ayala listened as students read poems they had written in English and Spanish. During her stop at Channing, she engaged with students participating in academic teaming, a core component of U-46 Rising, and asked them what kept them motivated.
As for herself, Dr. Ayala told students she wants to help "break down barriers" so they can pursue the life they want. "Whatever you want to be, be good at it … and be happy," she said.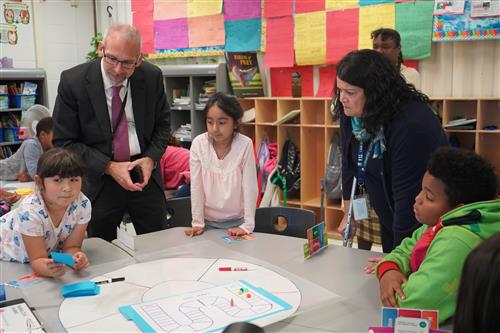 Creekside and Channing were among the initial group of "Schools for Rigor and Equity" that serve as models for U-46 Rising, an effort to ensure that all of the District's systems work for all students. Embedded in the U-46 Rising work is a renewed focus on improving classroom instruction through implementing academic teaming. The goal of this effort is for every student to engage in daily instruction where they collaborate with their peers on rigorous, standards-aligned tasks that require critical thinking, collaboration, creativity, and communication. More details can be found at u-46.org/u46rising.
Dr. Ayala said it was "uplifting" to visit so many Dual Language classrooms where students are taught to value knowing more than one language. For the 2022-23 school year, U-46 has about 12,000 students enrolled in the Dual Language program from preschool through 12th grade, making it one of the largest Dual Language districts in the United States.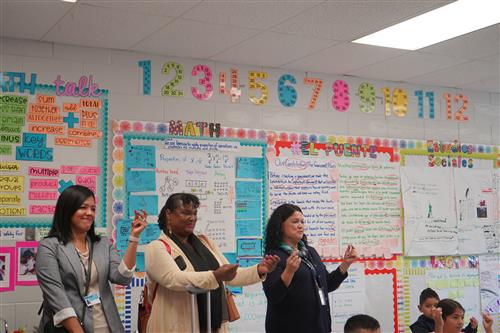 Dual Language is a form of bilingual education in which students are taught literacy and academic content in two languages — in U-46, English and Spanish. It offers a unique opportunity for students to excel academically and learn a second language. Dual Language programs foster bilingualism, bi-literacy, enhanced awareness of linguistic and cultural diversity, and high levels of academic achievement through instruction in two languages.
A Dual Language 2nd grade classroom at Channing surprised Dr. Ayala with a poster they had made with facts about her life, including that she's a published author, has an MBA, and is the first woman and first Latina to serve as the state superintendent. Those 2nd graders excitedly lined up to give her "high-fives" and then peppered her with questions, including whether she has a pet, what she eats for breakfast, and what her work entails. When she explained her role overseeing the state's schools, one of the 2nd graders exclaimed, "That sounds amazing!"
Dr. Ayala was escorted on her visits by Superintendent Dr. Tony Sanders, Channing Elementary Principal Rebecca Lunak, and Creekside Principal Joel Pollack.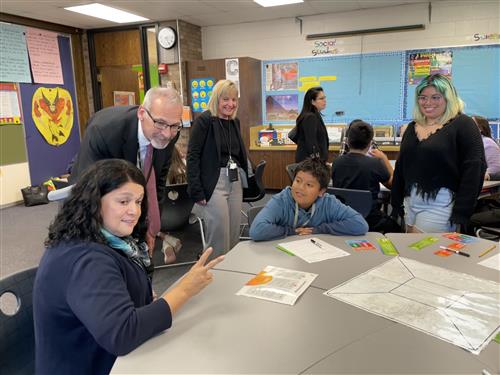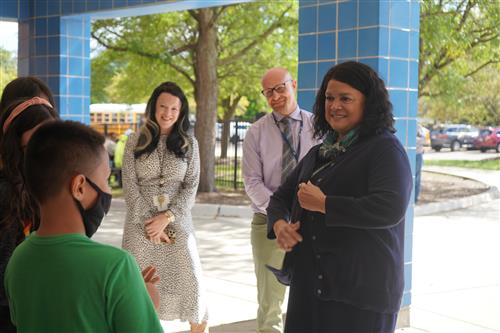 "I would say that Dr. Ayala's visit to U-46 brings much inspiration to our students and staff. We have many great things happening throughout our District, and her visit allows us to showcase these," Dr. Sanders said.
She also got to meet, in person, a new member of the Illinois State Board of Education's Student Advisory Council, Rossi Gutierrez. Rossi is a senior at Streamwood High School and has served for the past two years on Dr. Sanders' Student Advisory Council and Streamwood Principal Dr. Jennifer Van Deusen's advisory board.
The ISBE's Student Advisory Council provides the State Board with diverse student perspectives on education issues in Illinois, and the students get to see the policy-making in action.
Rossi said she applied for the role because "I wanted to be the voice of the kids who never speak up. Getting this position gives me a voice not only for me but also for the thousands of kids in the District."