Return to Headlines
Channing Students Treated to New Shoes for Holiday Season
Dec. 14, 2022
For 20 years, it's been a holiday tradition for the members of the Elgin High School Student Council to take select elementary students to buy new shoes, paid for by funds raised by the student council.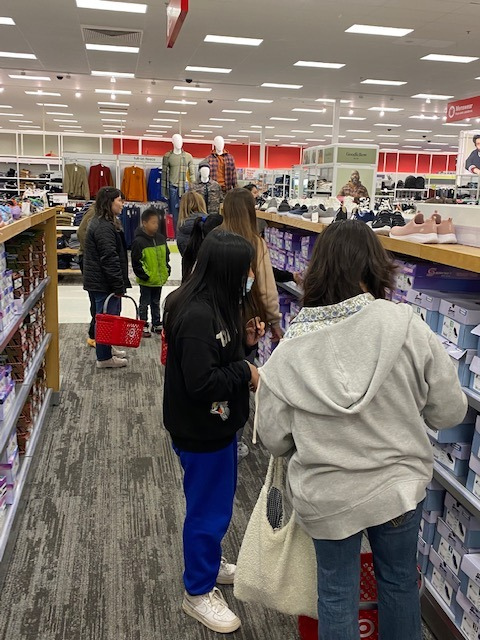 The project had to take a break for two years due to COVID but was able to resume this year, when 16 members of the EHS student council took 19 Channing Elementary 5th and 6th graders shopping for shoes at a Super Target located at 530 S. Randall Road in South Elgin.
Upon arrival, the group headed to the shoe department. Elgin High physical education teacher Peg Corcoran, one of the group's chaperones, asked the manager if the store had a coupon the group could use. Instead, the store manager, Courtney, said the store would take care of purchasing two pairs of shoes, and a pair of socks, for each student, said Kari Foerster, an EHS math teacher who serves as the faculty sponsor for the EHS student council and also helped chaperone the trip.
"The looks on the faces of our kids were absolutely priceless. The tears in the eyes of the chaperones were heartwarming," Foerster said. Other chaperones on the trip included EHS math teacher Jackie Nail, EHS PE teacher Bryan Creed, and Channing Assistant Principal Claudia Martinez-Carter.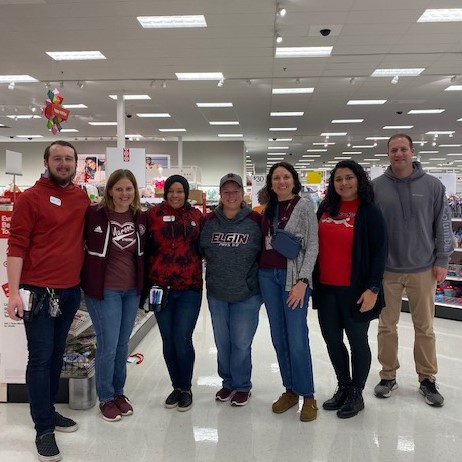 Foerster said some of the Channing students used their second pair of free shoes to get a pair for a sibling or another relative. Afterward, the high schoolers used some of the funds they did not have to use for shoes to treat the Channing students to lunch and then they brought the elementary students back to Elgin High School for a tour.
"It truly was the best day ever," Foerster said.
Foerster has been the sponsor for the EHS Student Council ever since students first came up with the idea of treating a group of Channing students to shoes as a holiday gift. It was originally called "Operation Payless," because the students shopped at the Payless shoe store; now it's known as "Operation Target."
"Our students love it," Foerster said. " It provides them a leadership experience and allows them to see first hand the huge impact that a small gesture can have."