Return to Headlines
U-46 Student Designs and Brings Community Garden to Life
A U-46 student - who shares her first name with the name of a flower - has designed her own garden for the community.
Zinnia Saher, a student in Jackie Jagielski's 6th grade gifted Ignite class at Glenbrook Elementary School, took her love of landscape architecture and gardening and designed a 20-foot-by-20-foot outdoor area with flowers, a small tree and a picnic bench. Then she reached out to the Elgin Parks and Recreation Department to see if her schoolwork might be brought to life in a local park.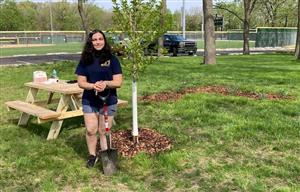 Saher's goal was part of an end-of-the-year passion project, assigned by Jagielski. Students were asked to incorporate something they were passionate about into their work.
"First, I started with research, then a layout - and took into account measurements and scale," Saher said, in a telephone interview. "The 20-by-20 area was based on the spread of the tree (15 feet in diameter) and in terms of the planter bed and bench. For flowers, I decided on irises and peonies. I had wanted a star magnolia tree, but due to its unavailability, I went with a Doctor Merrill magnolia tree."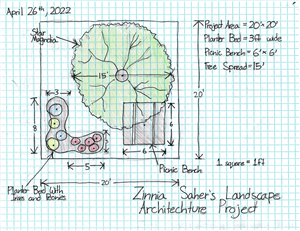 While preparing her project, Saher decided to go even further and meet with staff at the Elgin Parks and Recreation Department.
"I created a separate presentation (from my schoolwork) for them that included my research and drawing. They said 'Yes,' they could do it (create her landscape design) at Trout Park."
Saher headed to a local Home Depot store. After hearing about Saher's project, the store's manager donated a picnic bench. The staff at a local nursery donated the purple, pink and white iris and peony plants and the Doctor Merrill Magnolia tree.
Saher was ready to bring her garden to life.
On Saturday, May 14, her landscape design was put in place in Elgin's Trout Park.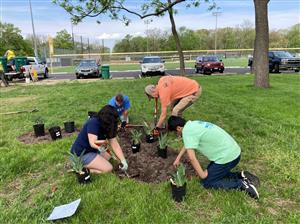 Volunteers from the City of Elgin and the Elgin Parks and Recreation Advisory Board were on hand to help, along with members of the Northeast Neighborhood Association and a number of Saher's classmates.
The heart-shaped dirt in the planting area was a nice coincidence, Saher said.
"I think the community is really going to enjoy it," Saher said, of her design space in Trout Park. "It was just a great experience overall."
"I'm incredibly proud that Zinnia took the steps to turn her passion project into a reality," Jagielski said of Saher. "She used her drawing talent and combined it with research to create a space that many will enjoy for years to come. She took the idea of making the world a better place - the goal of the project - to a whole new level."
Is a career in landscape architecture in Saher's future?
"Right now, it's more of a hobby," Saher said. "But I think it could be a possibility."
#U46Proud #WeAreU46