Return to Headlines
Board of Education Approves 2021-22 School Calendar
Mensaje en español se encuentra al final.
March 3, 2021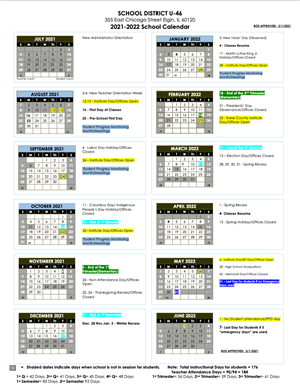 The Board of Education Monday night approved the 2021-22 calendar. The first day of classes for the 2021-22 school year in School District U-46 will be Monday, Aug. 16, 2021. If no "emergency days" are used, the last day of classes will be Tuesday, May 31, 2022. The calendar features 176 instructional days for students.

Under the approved calendar, students will be out of classes on Wednesday, Nov. 24, 2021, and have Nov. 25-26, 2021, as the Thanksgiving recess.
The winter break for staff and students would run from Monday, Dec. 20, 2021 through Monday, Jan. 3, 2022. Spring break will be observed from Monday, March 28, 2022, through Friday, April 1, 2022.
Observed holidays during which students will have no classes include Labor Day (Sept. 6, 2021), Columbus Day/Indigenous People's Day (Oct. 11, 2021), Martin Luther King Jr. holiday (Jan. 17, 2022), Presidents' Day (Feb. 21, 2022) and the Spring Holiday (April 15, 2022).
High school graduations would be held on Saturday, May 28, 2022.

Here is a link to a PDF of the 2021-22 school calendar that can be downloaded and printed. A Spanish version can be found here.
---
El lunes por la noche, la Junta Educativa aprobó el calendario para el año escolar 2021-22. El primer día de clases para el año escolar 2021-22 del Distrito Escolar U-46 será el lunes, 16 de agosto de 2021. Si no se utiliza ninguno de los días de emergencia, el último día de clases será el martes, 31 de mayo de 2022. El calendario incluye 176 días de instrucción para los estudiantes.
De acuerdo al calendario que fue aprobado, los estudiantes no tendrán clases el miércoles, 24 de noviembre de 2021 y el receso del Día de Acción de Gracias será del 25 al 26 de noviembre de 2021.
El receso de invierno para el personal y estudiantes será del lunes, 20 de diciembre de 2021 hasta el lunes, 3 de enero de 2022. El receso de primavera será del lunes, 28 de marzo de 2022 al viernes, 1 de abril de 2022.
Los días festivos en los cuales no habrá clases para los estudiantes incluyen el Día del Trabajo, (6 de septiembre de 2021), Columbus Day o Día Festivo de los Pueblos Indígenas (11 de octubre de 2021), el Natalicio del Dr. Martin Luther King Jr., (17 de enero de 2022), el Día de los Presidentes, (21 de febrero de 2022) y el Día Festivo de Primavera, (15 de abril de 2022).
Las graduaciones de las escuelas secundarias se llevarán a cabo el sábado, 28 de mayo de 2022.
Aquí está un enlace al calendario escolar 2021-22 que se puede descargar e imprimir. Puede encontrar la versión en inglés aquí.