When Ted Van Slyck was a freshman at Bartlett High School, he joined the Future Aviators Club and paid for a couple of introductory flying lessons at the DuPage County Airport. He knew right away that he found a lifelong passion, as well as his professional calling.
"There's just something magical and relaxing about flying," says Van Slyck, who is a pilot for Delta Airlines. "I still feel that way."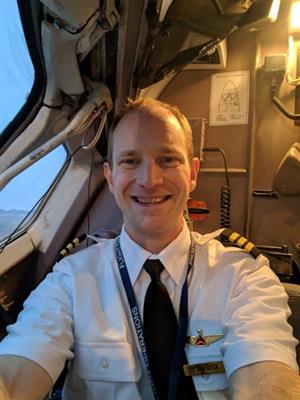 Looking back, a career in the clouds seemed preordained for the BHS Class of 2003 alum. Van Slyck grew up in Elgin, and his father, Bill, was an airline pilot. His mother, Mary Van Slyck, has had a long association with BHS as a volunteer and a career counselor and remains an active Citizens' Advisory Council member.
Van Slyck still remembers wearing his dad's captain's hat and acting as the "pilot" on a make-believe flight to Mexico with his kindergarten class.
"I knew even back then that I wanted to fly," he said.
After attending Channing Elementary and Larsen Middle schools in Elgin, Van Slyck was accepted into the Bartlett High School Academy. He prepared, though, not for flying but for a career in electronics engineering. Things changed when he found his love for flying.
Van Slyck pursued flying with a laser focus. By the time he was handed his diploma, he had about 500 hours in the air and had earned his pilot's license, along with advanced ratings for instruction and instrument flying.
His father, who didn't initially support his son's desire to fly professionally, came around when he saw his son's interest grow. To further Van Slyck's growth as a pilot, his father bought him a small plane.
"I was really lucky," Van Slyck said.
He graduated from Embry-Riddle Aeronautical University in Florida and began the roving life of a young professional pilot. Van Slyck flew traffic reporters over Chicago's highway system. He hauled canceled checks as a cargo pilot. He piloted for a regional carrier almost 10 years before Delta hired him in 2016.
He currently flies as the first officer, sitting to the captain's right in the cockpit of an Airbus 320. The airliner can hold just under 200 people, and their safety is in the hands of Van Slyck and his fellow crew members.
"You have to be prepared, you have to be well rested. You have to feel the weight of the responsibility for the people you are flying," said Van Slyck, 33, who hopes to be promoted to captain in the near future.
During the flight, the pilots, of course, oversee the plane's operation. But Van Slyck said the most important role is to be alert to changing weather conditions or other factors to ensure the airliner arrives safely and the passengers have as smooth a flight as possible.
When he's not flying, Van Slyck makes his home on the Wisconsin side of the Minneapolis area, where he lives with his wife and two young children.
For fun, Van Slyck still loves tinkering with electronics, a skill that was nurtured at BHS. He fondly remembered George Koch, one of his academy teachers, spending lunch breaks and time after school helping him construct electronics projects. Other BHS teachers helped, too, he said.
"They saw something in me and helped me develop drive and passion," he said.
Finding that passion, Van Slyck said, is the key for success.
"I tell young people that you can do anything once you know what you want to do. The hard part is finding out what that is."