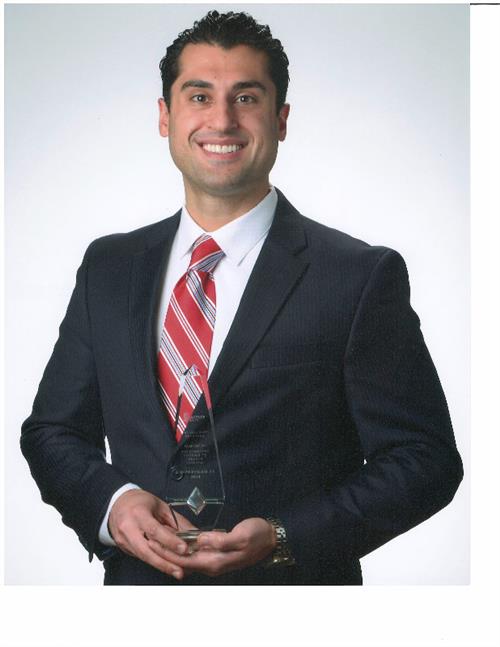 Keeping things in balance has been a lifelong theme for Dr. Brian Poustinchian.

A married father of three, Poustinchian strives to preserve a delicate balance between his treasured family life and his challenging career as a physician. Even within his medical career, the Benedictine University graduate with a medical degree from Midwestern University in suburban Downers Grove performs a balancing act between his practice and teaching physical examination skills to first- and second-year medical students at Midwestern. Oh, and for good measure, Poustinchian's residency saw him split time between Rush University Medical Center and John Stroger Hospital of Cook County through 2013.

A 2002 graduate of Bartlett High School, where he studied in the school's Academy of Science, Engineering, and High Technology, Poustinchian works as a hospitalist for Northwestern Medicine (formerly Cadence Health), seeing acutely ill patients as well as those without a primary physician as the medical director of a group at Delnor Hospital in Geneva.

Wearing his doctor's scrubs, Poustinchian is able to see the results of his work when patients get healthier. With teaching, he allows, the results take a little while longer.

"The rewards (of teaching) are not as immediate as in the hospital," he says. "But some of my students are starting to graduate, so that is satisfying. It's a great opportunity, but you don't always see the fruits of your labor right away."

Poustinchian credits his time at the Academy at Bartlett High, where the focus was on real-world virtues such as team-building, leadership and problem-solving, rather than "memorizing chapters in a book and regurgitating it," for setting the table for his subsequent education and career.

"The Academy," he says, "taught a well-rounded education from the beginning and helped me get a better background."

Poustinchian particularly enjoyed the access he had to faculty members in the Bartlett program, citing Dr. Ed Russell, who supervised the program during his time there. The faculty, he recalls, "always had an open-door policy, and you could go to them for advice and for mentorship."

That experience, Poustinchian says, gave him a blueprint for a lifetime of learning.

"The further and further I get in my career, well, you surround yourself, frankly, with people who are smarter than you, and that lends itself to mentorship and development."

And to a life in balance.