From being a television personality to running a digital web design agency and opening a sports bar in Chicago, Chris Bukowski has demonstrated a wide range of interests in several industries. He is a 2005 graduate of Bartlett High School who returns to Bartlett once or twice a month to visit his family and made a stop at BHS in the spring of 2019 to visit with former teachers and coaches.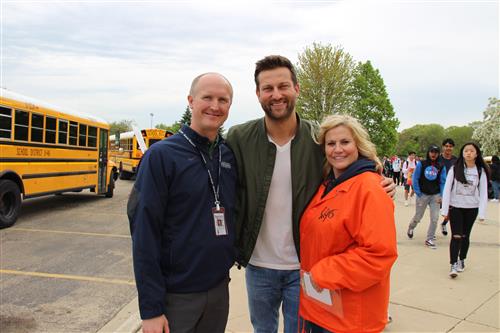 Bukowski, now 32, graduated from the University of Nevada, Las Vegas with a degree in Hospitality Management and now makes Denver, Colorado his home.
Bukowski is well known for his appearances on ABC's "The Bachelor" franchise. He was nominated by one of his high school friends, and though he thought it was a joke at first, he was selected as a contestant on the eighth season of "The Bachelorette" in 2012, where he made it all the way to hometown dates in the eighth week. He later appeared on "Bachelor Pad" and "Bachelor in Paradise," but he announced his "retirement" from the franchise in 2015.
Bukowski said his experiences with reality TV provided him with insight beyond what viewers saw depicted onscreen. "As you get older you learn a lot about yourself from your mistakes," he said. "I was able to hone in on what was important in my life: family, friends."
Because of all he's learned over the past few years, Bukowski said he is ready to step out of Bachelor retirement. "I feel like I'm in a better place now than I was previously," he said. He will be returning to this season of "Bachelor in Paradise," which takes place in Mexico and premieres on Aug. 5.
In the meantime, Bukowski keeps himself busy running two companies. He owns a sports bar and restaurant called Bracket Room which has four locations: three in the D.C. area and one that recently opened on Chicago's South Side.
"It was my dream to open up a restaurant, and oddly enough, the show actually progressed the opportunity," he said.
Bukowski also owns a web agency called KCM Create, which he started with a few friends. The agency, which builds apps and helps businesses with digital marketing, now serves clients across the country from Los Angeles to New York.
Bukowski's advice for current high school students is to enjoy the present and not stress about the future too much. Even after all of his career success, Bukowski remembers his time at BHS fondly. He still keeps in contact with many of his high school friends, teachers, and coaches, and likes to visit often. "Yeah, the TV stuff is cool, but I still think about high school all the time," he said during his recent visit to BHS. "Good times here for sure."