Welcome to the Counseling Department! We are happy to have you!
School Counselor Vision Statement

The School Counseling Department at Kenyon Woods Middle School envisions a future where all students obtain success in their intellectual, social, emotional, and vocational lives. By actively engaging in a learning culture for all, students will be equipped with the skills necessary to be autonomous individuals who can contribute positively to their community and own personal growth.
School Counselor Mission Statement

The mission of the Kenyon Woods Middle School Counseling Program is to provide equitable opportunities to a comprehensive school counseling program to meet the academic, social-emotional, and career and college focused needs of each individual student. In collaboration with all stakeholders, the school counseling program strives to provide high quality support and interventions so that all students are empowered to ROAR in a diverse culture.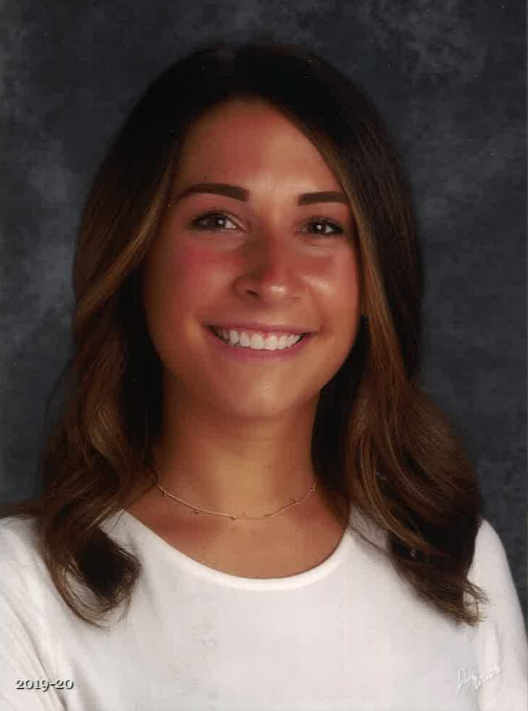 Phone: 847-289-6685 ext. 5322
Email:
Degrees and Certifications:
Licensed Professional Counselor Masters of Education in Counseling Bachelors of Science in Psychology
Ms.

Ventrella

Welcome!

My name is Jessica Ventrella and I am the School Counselor at Kenyon Woods Middle School. I began working at Kenyon Woods in 2018 after spending a year employed as a Classroom Counselor at a therapeutic day school, and I have loved each and every day spent as a Panther! After receiving my Bachelors of Science in Psychology at Northern Illinois University (Go Huskies!), I continued my professional journey at NIU to obtain my Masters of Education in Counseling in their CACREP accredited counseling program. Throughout my time in the program, I was an active member of the International and Professional Academic Honor Society for Counseling Students as well as numerous professional counseling associations. Soon after graduating, I went on to receive my Licensure in Professional Counseling in 2017. My educational and professional experiences have prepared me well to support students who have both academic and social-emotional needs.

Throughout my whole life, I knew that I wanted to work with students. I consider it my goal and mission to assure that each student feels safe, welcome, and supported in the school setting. I believe that change occurs only when a positive relationship if formed through transparency, trust, and unconditional positive regard. I consider myself to be an active listener, promoting consistent self-reflection and assistance in guiding students to be autonomous and confident in their own decisions.

School Counseling Canvas Site
What does a School Counselor at KWMS do?

Academic and Educational Counseling: Students may seek support for academic or educational counseling services. At KWMS, the school counselor may provide students with strategies and information in the areas study skills, test taking, executive functioning, etc. The school counselor will likely guide students in exploring solutions and setting goals to assist in achieving academic success. Students may also wish to talk with their school counselor about scheduling appropriate classes for their academic level and interest.

Personal and Social-Emotional Counseling: Students may seek support for personal and social-emotional counseling services. At KWMS, the school counselor will assist students in developing skills to appropriately manage difficult situations. Further, the school counselor will guide students in developing skills to effectively communicate with others. This may be accomplished in a multitude of ways by providing coping skills, strategies, and tools in universally taught lessons, small group involvement, or short-term individual sessions. Among others, common topics discussed in the counseling office focus on peer relationships, self-identity exploration, and specific mental health or safety concerns. At KWMS, the school counselor works to provide a safe space for all students to seek support when feeling dysregulated in the general school setting. **Please be aware that if the school counselor does not feel that a student's social-emotional needs can be met within the confines of the school setting, outside counseling/therapy resources and recommendations may be suggested and provided to the family.**

College and Career Counseling: Students may seek support in exploring potential college and career choices. At KWMS, school counselor will guide students through the early stages of college and career exploration. Much of this information and exploration will occur universally and school-wide throughout the student's middle school experience using the Naviance platform. Student that want to explore further may request additional or more individualized information regarding their college and career interests, including potential High School Pathways, Academies, and Programs.

504 Plan Case Management: The school counselors are responsible for 504 Case Management for students enrolled at KWMS. For more detailed information and inquiries regarding 504 Plans, please contact your student's school counselor directly.

How does a Student see a School Counselor?

At KWMS, we encourage students to remain involved and engaged in their academic classes throughout the school day. When a student would like to see their counselor during the school day, they should make an appointment by sending an email request. The school counselor will work to schedule an appointment with the student during their lunch period or during the least restrictive time in their day. If there is an urgent concern, a student should ask their teacher for a pass to see their counselor. Also in the event of an urgent concern, the school counselor may have to seek out a student and pull them from an academic class.

How does a Parent/Guardian see a School Counselor?

Parents/Guardians are welcome to meet with their student's counselor as needed. However, we ask that parents/guardians make appointments in advance, via phone or email, to assure that the counselor and any additional team or staff member(s) is available. Of course, the school counselor will work to meet as urgently as the situation requires.