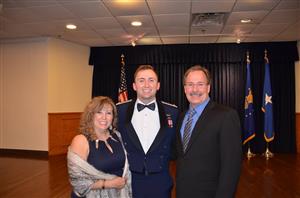 Six years ago, Jacob Yarwood was an academic high achiever in Bartlett High School's Science, Engineering and Technology Academy program. Now he literally reaches for the sky as an officer and pilot in the U.S. Air Force.
After graduating in the BHS Class of 2013, Yarwood was accepted into the U.S. Air Force Academy where he earned his degree and is currently honing his skills as an active duty military pilot.
"I always felt like I wanted to serve," said the Bartlett native, who is the son of Brian and Susan Yarwood.
Before attending Bartlett High School, Yarwood attended U-46 schools including Bartlett Elementary, Sycamore Trails Elementary, and Tefft Middle School.
Yarwood said he was the kind of kid who liked to build things and work with his hands, something that was influenced by his father, who is a carpenter. As a freshman, he was one of about 40 students in his class accepted into the Academy program at BHS, with its strong emphasis on science, engineering and math. Yarwood said he aimed early on for a career in engineering, and as high school progressed, he also set his sights on attending the Air Force Academy.
Looking back, there were a couple of formative experiences. Yarwood was interested in aviation and, as a kid on a family vacation out west, he remembers being wowed while touring the Academy's Colorado Springs campus.
"I was just awed – it was so cool," he said.
He also has an etched memory as a first-grader, sitting on the bed in his parents' bedroom and watching on TV as the World Trade Center towers fell on Sept. 11, 2001.
At Bartlett High, he had some conversations with a fellow student who had been accepted to the U.S. Military Academy at West Point. That made Yarwood more strongly consider a service academy and a military career.
But even after he decided to seek admission to the Air Force Academy, Yarwood did not envision a career in the clouds. After he entered the Academy and worked toward his degree in engineering, however, Yarwood realized that he wanted not just a future that included aircraft engineering, but one that included flying, too.
After he graduated and was commissioned a 2nd Lieutenant, Yarwood applied and was accepted into the Air Force's pilot training program. He spent several weeks learning basic flying skills on a small Cessna-type plane before advancing to more complex training aircraft. Eventually, based on his performance in the air and test scores, Yarwood was assigned to become an A-10 Thunderbolt pilot.
The jet, affectionately dubbed the Warthog after its tough, stubby appearance, originally was designed as a tank hunter and has evolved into an indispensable support aircraft for infantry soldiers.
"We're guardian angels for the guys on the ground," Yarwood said.
As of late 2019, Yarwood was finishing his training on the A-10 at Davis-Monthan Air Force Base in Tucson, Az.