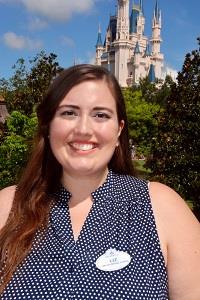 Liz Tippy's career is by the numbers, but it is anything but routine.
The 2008 graduate of Elgin High School's Gifted and Talented Academy left Elgin to pursue a bachelor of arts degree in communications from the University of Illinois and a master of science in statistics from the University of Central Florida in Orlando. Now, as a forecasting analyst for Walt Disney World in Orlando, the Mouse is counting on people like Tippy to project how many park attendees will be in the house.
"I study current market trends as well as the different promotions that are available to predict water park attendance and revenue, how many guests will visit at a given time," she explained, adding that prognostications are generally within 5 percent of actual attendance. "A lot of things go into it; it's both an art and a science."
Tippy took a relatively sharp turn out of undergraduate studies in communications and into her graduate work in statistics. She credits Richard Towry, one of her teachers from the academy at EHS for pointing her, ultimately, toward numbers.
"I received my communications degree, but I really wanted to get into the analytical space. Mr. Towry's class set me on that path to begin with. His AP stats class is one of the reasons I decided to get my master's degree in stats. … I just really enjoyed it, seeing how math and analytics can lead to real-world conclusions."
Tippy also cites her English class with Cristina Cabrera as influential. "Writing in that class really prepared me for college," she said.
Tippy can see herself working at Disney World for the foreseeable future.
"There's just a lot of cool things we're doing," she said. "I'll keep pursuing analytical down here, because there's just a lot of research that you can do."