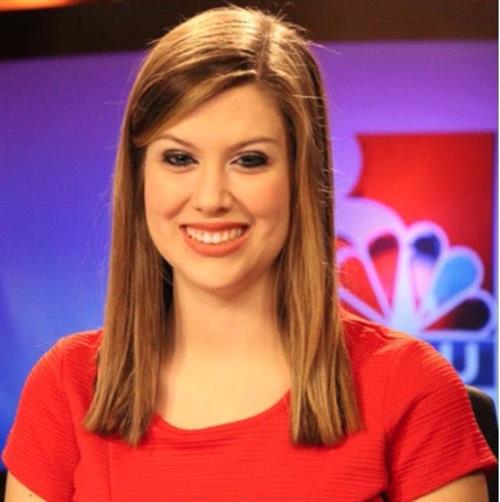 If you think it's a long slog waging a campaign for your political party's nomination for governor, try being a television reporter covering 18 candidates vying for the statehouse.

That's what Rose Schmidt, a 2013 graduate of the Gifted and Talented Academy at Elgin High School, was up against during the 2018 winter. Schmidt is a political reporter for CBS affiliate WISC-TV in Madison, Wisconsin, where she covered 18 Democrats in a heated spring primary race to face off against incumbent Gov. Scott Walker in November.

Just recounting her campaign-trail adventures sounds exhausting for Schmidt.

"It's a challenge because my job is to tell a story visually in a way that makes sense to people," Schmidt says. "It's been a challenge to tell viewers things about all of them."

After graduating from Elgin High School in 2013, Schmidt earned a bachelor's degree in journalism degree from the University of Missouri in three scant years, thanks in no small part to her Elgin High schedule.
"I came into college with 28 AP credits and another 10 back credits, which put me more than a whole year ahead," she explains.
Additionally, Schmidt is halfway to her master's degree in journalism from Mizzou and has also interned for CNN and USA Today. As part of the national newspaper's Collegiate Correspondent program, Schmidt found her byline on page 1 for her coverage of a series of protests started by a group called Concerned Student 1950. The protests were prompted by a number of racially charged incidents at Mizzou in 2015.

"I felt like my life had peaked at that moment," she recalls. "I didn't know how it could get any better than a national byline at age 20."

What initially drew Schmidt to the Gifted and Talented Academy was the diversity of its academic offerings and its student body.

"The reason I went to the EHS academy was that it didn't have an emphasis. My friends have pursued theology, architecture, statistics, nursing, med school, public relations and engineering," Schmidt said. "We all have very different emphases, but we all wanted to make ourselves better. What Elgin prepared me for was to be ready for anything; When you're around smart people, when you're around driven people, it makes you smarter and more driven."

Schmidt, whose brother Spencer graduated from the Academy at Elgin in 2011 and whose sister Diana is currently a junior in the program, is quick to praise the faculty she encountered at Elgin High.

"They made themselves available to us, inside and outside of school. No one teacher influenced me to be who I am today, but I would say they all played a role."

Schmidt cites her two English classes with Mrs. Lisa Smith, two history courses with Mrs. Chris LaRue, and two math classes with Mr. Richard Towry as evidence of the continuing bond between academy teachers and students. And she singles out Mrs. Cristina Cabrera, who taught her English her sophomore and senior years, for "trying to get us to read good books.

"My job is telling stories, and reading books like Truman Capote's 'In Cold Blood' helped me understand that. So many things that I did in the Academy set me up for who I am today."