EHS Alumni
Page Navigation
U-46 Team Member: Mike Basich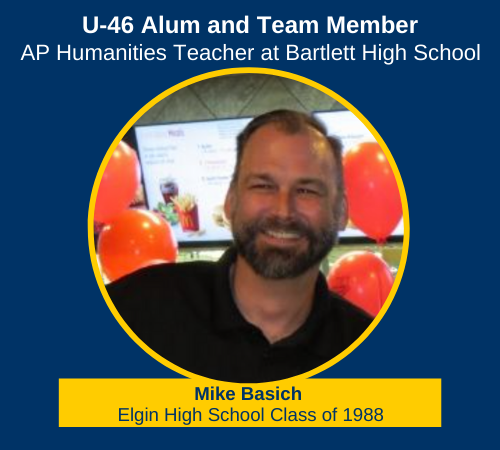 Mike Basich, AP of Humanities Teacher at Bartlett High School
What are some of your daily work responsibilities?
Being in classrooms, helping students and teachers, Learning Focused Conversations.
How long have you worked for U-46?
28 years.
What is it like to work for the District where you attended school and from which you graduated and what does it mean to you?
It means the world to me. When I first started, I had former teachers who helped me get my feet on the ground, gave me advice and lesson plans, and assured me that I was doing the best that I could.
Which U-46 schools did you attend?
Wayne, Canton, and Elgin High School.
What year did you graduate from high school?
1988.
What was your favorite subject and why?
English.
Who was your favorite teacher and why?
Tough to say. Dennis Martin, Peg Kuntzelman, Martin Powers, Ken Azinger. They let me explore my interests and fostered a love of learning, literature, and writing.
Please share a favorite memory from your time as a student in U-46.
One of my favorite memories is when Peg Kuntzelman let me do independent study (when independent study was not a thing,) because I had already read everything on the required reading list for the year. She differentiated for me before that was a buzzword. She made me want to be an English teacher.
Briefly describe your post-secondary college and/or career experience.
NIU for undergraduate, Aurora for my two Master's degrees.
What important life or academic lesson did you learn in U-46?
Every student can learn, even if they learn differently. Replace judgement with curiosity when it comes to relationships.