Return to Headlines
Elgin High School Opens Newly Renovated Welding Lab
April 12, 2018
ELGIN - The welding program at Elgin High School recently earned accreditation from the American Welding Society (AWS), certifying the school's newly renovated welding lab as an Accredited Testing Facility (ATF). Students and community members will be able to use the facility to complete a welding certification at the U-46 school.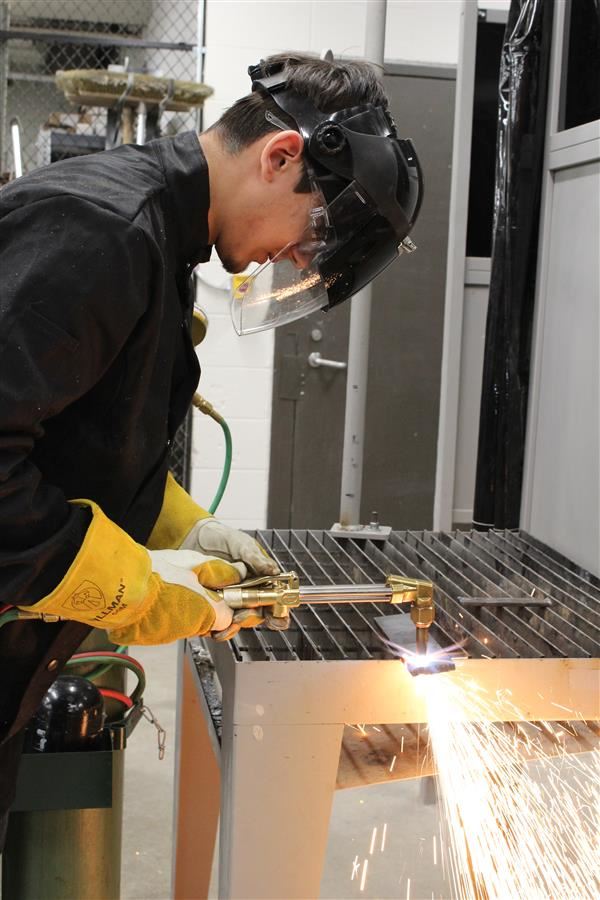 "Obtaining ATF designation from AWS is a momentous accomplishment for any facility. The fact that this team was able to get this designation at the high school level is extraordinary," said Kinasha Brown, U-46 Career and Technical Education Coordinator. "Accreditations are important in validating the quality of a program. Students enrolling in the U-46 welding program are being prepared to meet industry standards in welding to immediately join the workforce or further their education after graduation."
Elgin High School was identified as a school to house welding courses available to students in U-46 as well as in neighboring districts as part of the Regional Career Pathways initiative. This program allows students to participate in Career and Technical Education programs that may not be offered at their home school. Neighboring districts involved in the Regional Career Pathways program are Community Unit School District 300, Central Community Unit School District 301 and St. Charles Community Unit School District 303.
The previous welding lab had not been updated in approximately 20 years. The renovated lab, which opened on Feb. 20, includes 14 new welding lab booths where students are training on industrial-quality equipment to stay current with the latest welding and cutting technology.
The accreditation process of the newly renovated lab began in April 2017. Once the EHS application process was reviewed by AWS auditors, an onsite evaluation was scheduled.
Representatives from the American Welding Society, which was founded in 1919 as a nonprofit organization dedicated to improving science, technology and application of welding, visited Elgin High for an intensive, full-day audit in February 2018. They examined the structure and resources of the school's welding lab and compared those to AWS standards to ensure students are receiving the level of training that will help them succeed in the industry. The auditors also examined the lab's test process and material storage.
According to the AWS, only one other high school in the United States, located in Fontana, Calif., is listed as an Accredited Testing Facility. Elgin High became the second to be certified as an ATF, and the first in the Midwest. Hampshire High School in Community Unit School District 300 has also recently earned the accreditation, making that two secondary schools in Illinois that serve as welding testing facilities.
"This accomplishment will positively impact our school and the future generations of Elgin and our surrounding communities," said Krystal Thomas, Principal at Elgin High School. "We can now ensure that our students are globally competitive in lucrative fields of welding. They won't just have jobs, they will have careers."
According to the U.S. Bureau of Labor Statistics, professions in welding such as solderers, cutters and brazers are anticipated to grow by 4 percent from 2014 to 2024.
"In order to meet the demand for highly skilled workers, the AWS tells us that, in the United States, we need to recruit and train close to 300,000 new welders by 2025 in order to remain stable as an industry," said Nick Moran, Program Technical Specialist, and AWS Certified Welding Educator and Inspector. "Which makes programs like the one at U-46 a critical component in addressing the skills gap."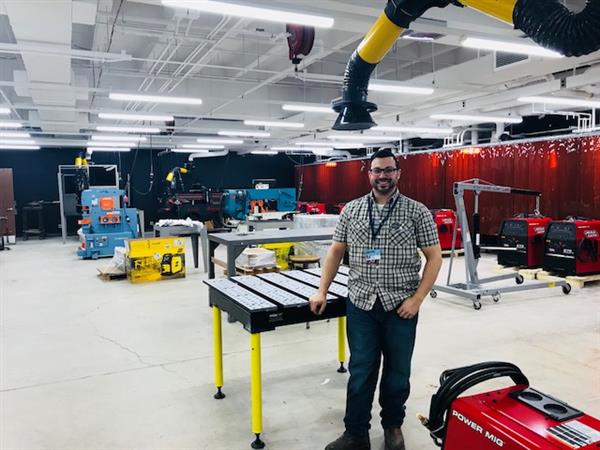 Courses that students in U-46 and neighboring schools are able to enroll in at the newly renovated Elgin High lab for the 2018-19 school year are the Fundamentals of Welding, Welding Technology I and Welding Technology II.