Preschool

U-46 early childhood programs offer a continuum of educational services to meet the individual needs of children, following the special education mandate of least restrictive environment. Early learning, developmentally appropriate experiences support children's social, academic and physical development helping to prepare them for a successful kindergarten experience.

The High Scope Curriculum is used to guide instruction in the U-46 programs.

Not all preschool experiences take place in the classroom. Placement is determined by each child's needs.

U-46 Services for Preschool Age Children

Home-bound instruction: educational services provided in the home for children too ill to come to school
Home School Speech: therapy delivered at the child's home school for children who do not need classroom programming.
5-day special education classes: these classes meet Monday through Friday and have 8 to 10 students with special education disabilities whose needs warrant a smaller class size, more individualized instruction and a need for systems to be developed for speech, activities of daily living and /or behavior.
5-day, state-funded preschool: designed for students who need enriched experiences in order to succeed in kindergarten.

U-46 High School Program - Preschool

Preschool classes are offered for typically developing children at all five of the district's high schools. High School students interested in early childhood education are supervised by their teachers as they interact and work with young children signed up for the program. Classes meet twice each week for 1 hour and 40 minutes.

Contacts:

Bartlett High School - Sara Palmer Butera 630-372-4700 ext. 4742
Elgin High School - Mary Moschini 847-888-5100 ext. 8150
Larkin High School - Aurora Scarpaci 847-888-5200 ext. 8325
South Elgin High School - Tushebra Crump 847-289-3760 ext. 3672
Streamwood High School - Morgan Bykoff 630-213-5500 ext. 8625
Preschool Screening

U-46 offers a screening service free for all 3- to 5-year-old children who reside in the District. The screening is a brief test of a child's development that can determine if a child is progressing as expected for his/her age. Screening can identify possible difficulties a child may be having in attaining new skills. All screenings are offered in English and Spanish. For more information on the screening process, please click here.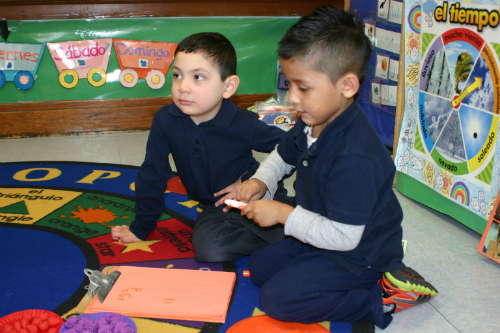 Community Resources

Two Rivers Head Start East
847-742-4922

Two Rivers Head Start West
847-888-0271

Head Start Batavia
630-264-1444

CEDA Head Start
847-598-1020

Kids Hope United
847-697-7100