Return to Headlines
U-46 Students Explore Possibilities for their Futures at Curriculum and Career Expo
Sept. 11, 2019
Jamalia Moore had trouble deciding which she liked most about Explore 2019 - the virtual reality exhibit where she got to manipulate a human skeleton, visiting with students from School District U-46's Magnet Academies, or talking to people in the medical field about how much education is required for various healthcare paths.
"It's fun to see all the different careers you could pursue," said Jamalia, a student at Ellis Middle School in Elgin.
She was among approximately 3,000 U-46 8th grade students who on Wednesday attended Explore 2019, the annual curriculum and career expo put on by U-46 and the Alignment Collaborative for Education. Students from all eight of the District's middle schools attended the event at the Sears Centre in Hoffman Estates, arriving via U-46 buses with their teachers and principals.
This was the fifth year for Explore, and the second in which 8th grade students attended as part of their school day. New this year, parents were invited to a special preview of the event on Tuesday night.
Explore supports the District's ongoing efforts to improve college and career readiness. It aims to show students the connection between academics and future careers at a time when they are beginning to recognize their interests and, together with their parents, teachers, and guidance counselors, plan for high school and beyond.
"We spend about six months planning this amazing event because we want all of our 8th grade students to know that the possibilities for their futures are endless, and it begins right here with their education in U-46," said Lela Majstorovic, Assistant Superintendent for Secondary Education, Instruction and Equity.
More than 90 companies, organizations, hospitals, universities, local governmental units, and non-profits showcased careers at Wednesday's event. They sent representatives who shared with students details of how their own education and career path led them to their current roles. In many cases, exhibitors also offered hands-on demonstrations.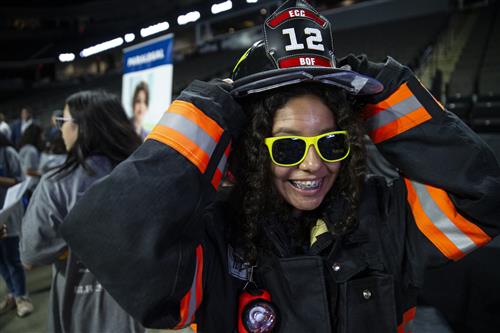 HLR Engineering challenged students to build a catapult out of popsicle sticks, rubber bands, and a plastic spoon. zSpace brought its virtual reality mobile lab to demonstrate how virtual reality can be used for learning experiences. Hoffer Plastics used a robot to portray how it uses robotics in its assembly process.
And a number of exhibitors brought vehicles, including Atlas Bobcat, Elgin Sweeper, NICOR, and the City of Elgin, which featured a fire truck, water distribution vehicle and SWAT truck.
In total, the exhibitors represented a dozen "career clusters." New exhibitors for 2019 included Lombard Veterinary Hospital, DSM Functional Materials, HARTING Inc., NTN Bearing, Companion Animal Specialty and Emergency (CASE) Hospital, SCARF (Sudden Cardiac-Death Awareness Research Foundation), Atlas Bobcat, Blackhawk Bank, XAT Media and the Kane County Sheriff.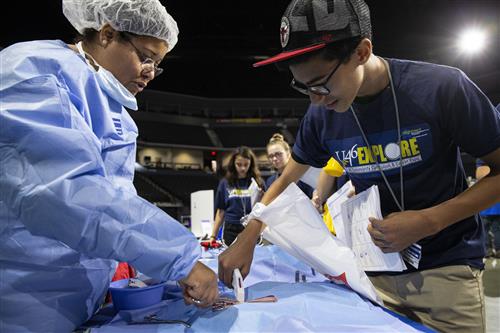 "We are all so grateful to the business community for investing their time and expertise to guide our 8th graders in this career exploration experience," said Nancy Coleman, executive director of Alignment, a non-profit local organization that brings together community resources and initiatives to support District priorities.
"Our volunteer professionals appreciated that so many students visited their exhibits and came equipped with good questions. They also enjoyed the opportunity to explain their professions during Tuesday night's successful Parent Preview."
Sayannah Hammershoy, a student at Tefft Middle School in Streamwood, built a catapult at the HLR Engineering exhibit, mastered the balance board in front of the YMCA exhibit, and posed for a photo with friends at Elgin Community College's Digital Photography & Art exhibit. But her most meaningful experience at Explore 2019 was talking to a pediatric nurse.
Sayannah is interested in becoming a pediatrician, due to a love of working with children (her mom is a preschool teacher) and the service and scientific aspects of being a physician. She looked closely at a mannequin infant that had a feeding tube and IV line while Carolyn McCormick, a pediatric nurse coordinator in the Children's Health Resource Center at Advocate Children's Hospital in Oak Lawn, explained the educational path a pediatrician would follow through college, medical school, a residency and then potentially a fellowship if she wanted to pursue a specialty.
"I don't think it's ever too early," for students to think about what they want to do post-high school, Sayannah said. "You can have a plan in the back of your head and you can always change it."
McCormick said she was impressed by the questions she received from students, such as what is challenging about working in a hospital and what is the most rewarding part of her career. Sitting next to her, Joanna Turano, an injury prevention specialist at Advocate Children's Hospital in Park Ridge, said she wished she had been able to attend an event like Explore when she was in middle school.
"These students are getting exposed to the variety of ways you can build a career," Turano said, pointing to her role as a way that students can work in the healthcare field even if they don't pursue the more traditional nursing or physician paths.
Acknowledging the number of exhibits and the size of the Sears Centre, the District worked to prepare students to make the most of their time at the event. In classrooms starting in August, guidance counselors helped 8th grade students use Naviance, a web-based college and career readiness platform, to determine the career clusters they wanted to focus on at the Sears Centre.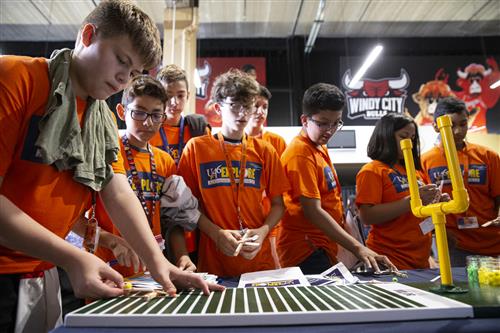 Before leaving for the event, students were given a new t-shirt (color coded for each middle school) and a "Student's Passport to Explore," that included a map, a space to record their top three career clusters, and a scavenger hunt designed to help students make the most of their experience.
Meanwhile, exhibitors were given suggestions for how to talk to the students. Parents received suggestions via email about how they could help prepare their child for Explore 2019, and at the parent preview, they were able to check out the exhibits their children would see the next day.
In addition to about 95 business and industry partners who volunteered to showcase their careers at Explore 2019, U-46 faculty were also present to explain core classes, electives, and popular course sequences that are based on students' career interests, such as courses in automotive, welding, healthcare science, and manufacturing, as well as additional college and career preparatory curriculum. Representatives from the five U-46 Magnet Academies were on hand, telling students about the academic focus at their small learning communities, and reminding them that 8th graders can submit applications for academy admittance through Oct. 15.
Steven Espinoza, a student at Ellis Middle School in Elgin, said he is debating applying to Bartlett High School's Science, Engineering and Technology Magnet Academy or the Gifted & Talented Magnet Academy at Elgin High School. His favorite subject is math - he worked through all the math puzzles he saw at Explore - and is considering a career as an engineer or architect. He said he is sure some of his fellow classmates saw something on Wednesday that will encourage them to consider a career they had not thought of before.
"Once they've had this experience, they can start to think about it," he said. "If you find something you enjoy here, you can do more research at home or school."