Return to Headlines
National Board Certified Teachers to Be Recognized with Accent on Achievement
Jan. 24, 2022
The U-46 Board of Education Monday will honor five teachers who have recently renewed their National Board Certification with an "Accent on Achievement" at Monday night's Board of Education meeting.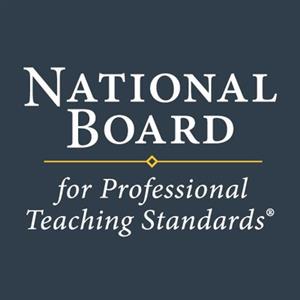 The National Board for Professional Teaching Standards oversees the process for National Board Certification, the highest credential in the teaching profession. The initial certification can take a teacher one to three years to complete; a teacher must go through a process to maintain their certificate every five years to keep it active.
National Board Certification is a self-reflective form of professional learning that defines and recognizes accomplished teaching. Candidates must demonstrate their understanding of content knowledge in their chosen certificate area; design and implement instruction to advance student learning and achievement; describe, analyze and reflect on their teaching and interactions with students; and highlight their abilities as an effective and reflective practitioner in developing and applying their knowledge of their students.
"Being a Nationally Board Certified Teacher for the past five years has added so much to my professional development," said Brooke McGrath, an instructional special education teacher leader in U-46 who also is a coach and coordinator for the District's Special Olympics team, the Blue Stars.
"It continues to push me to seek out continued professional development on culturally relevant teaching, engaging families and communities, and the importance of positive relationships, especially during a pandemic," she said. "The skills I have learned from even just the initial process to become certified are what made me commit to the maintenance process, which helped me understand how to reach my students best during some of the most challenging times for our students academically and social-emotionally."
The five teachers maintaining their certification are:
Marzena Anderson - 1st Grade Teacher, Liberty Elementary School
Denise Bourgoin - English Teacher, South Elgin High School
Juan Fernandez - World Languages Teacher, Elgin High School
Brooke McGrath - Instructional Special Education Teacher Leader
Cheryl Romeo - Exceptional Needs II Teacher, Special Education, Canton Middle School
The Accent on Achievement certificates will be presented at 7 p.m. Monday, Jan. 24 in room 140 of the Educational Services Center. The U-46 Board of Education meeting will also be streamed live on the District's YouTube channel and be available for the public to participate via a Zoom webinar at https://us02web.zoom.us/j/84830675043 as well.