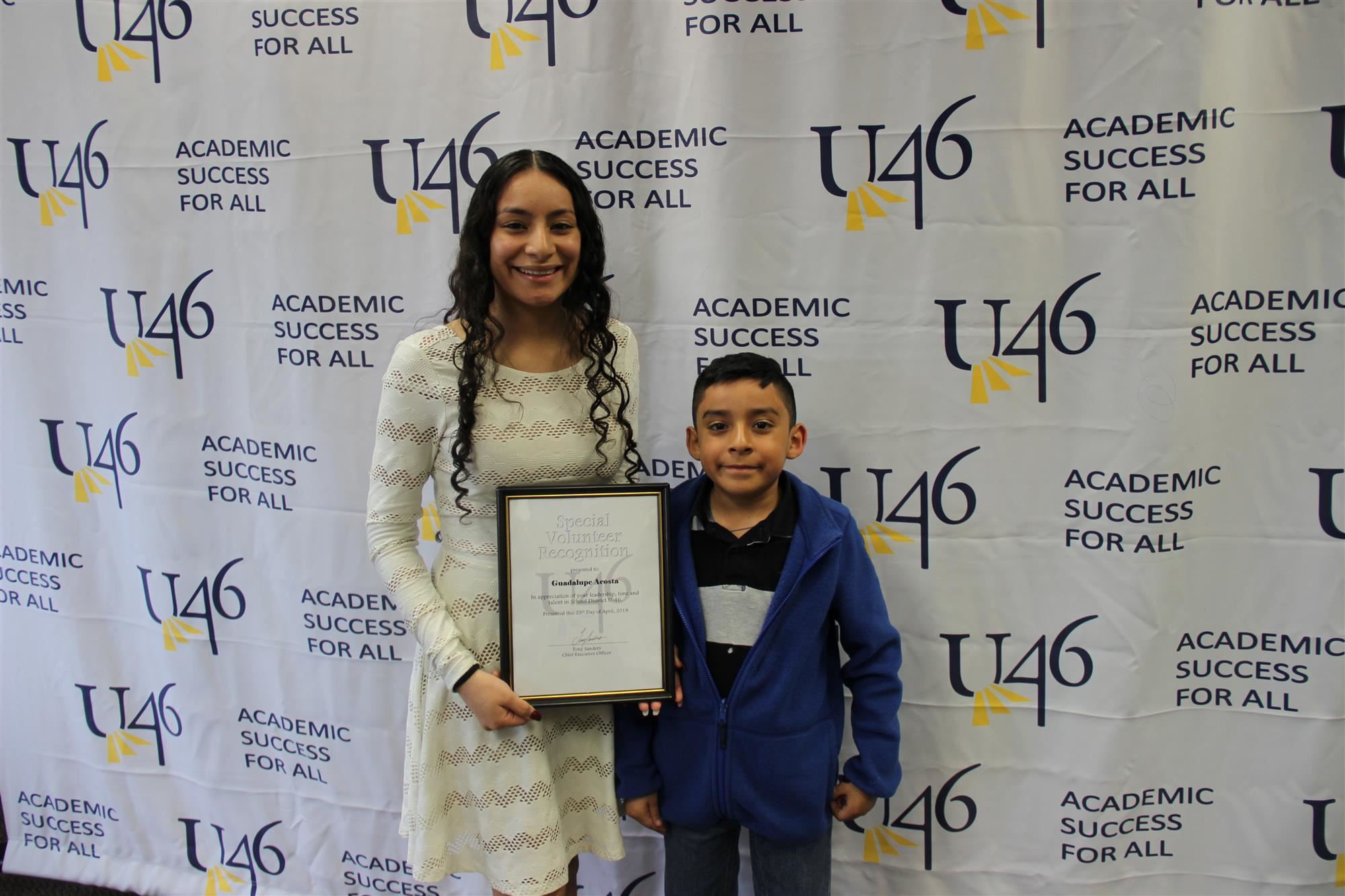 Phone:
Email:
Degrees and Certifications:
Guadalupe Acosta

Volunteer at Hillcrest Elementary School

Guadalupe Acosta, a junior at Robert Morris University, served as a full-time volunteer in Hillcrest Elementary second-grade teacher Teresita Thompson's classroom from the beginning of the school year through the end of October, when her own school year began.

She volunteered every Friday in Ms. Thompson's classroom, who was Guadalupe's own second-grade teacher.

In addition to some clerical work, Guadalupe worked with students in areas ranging from technology to math. The class is a two-way dual language classroom, Guadalupe was helpful in students making language connections.

Nominated by: Second-Grade Teacher, Ms. Thompson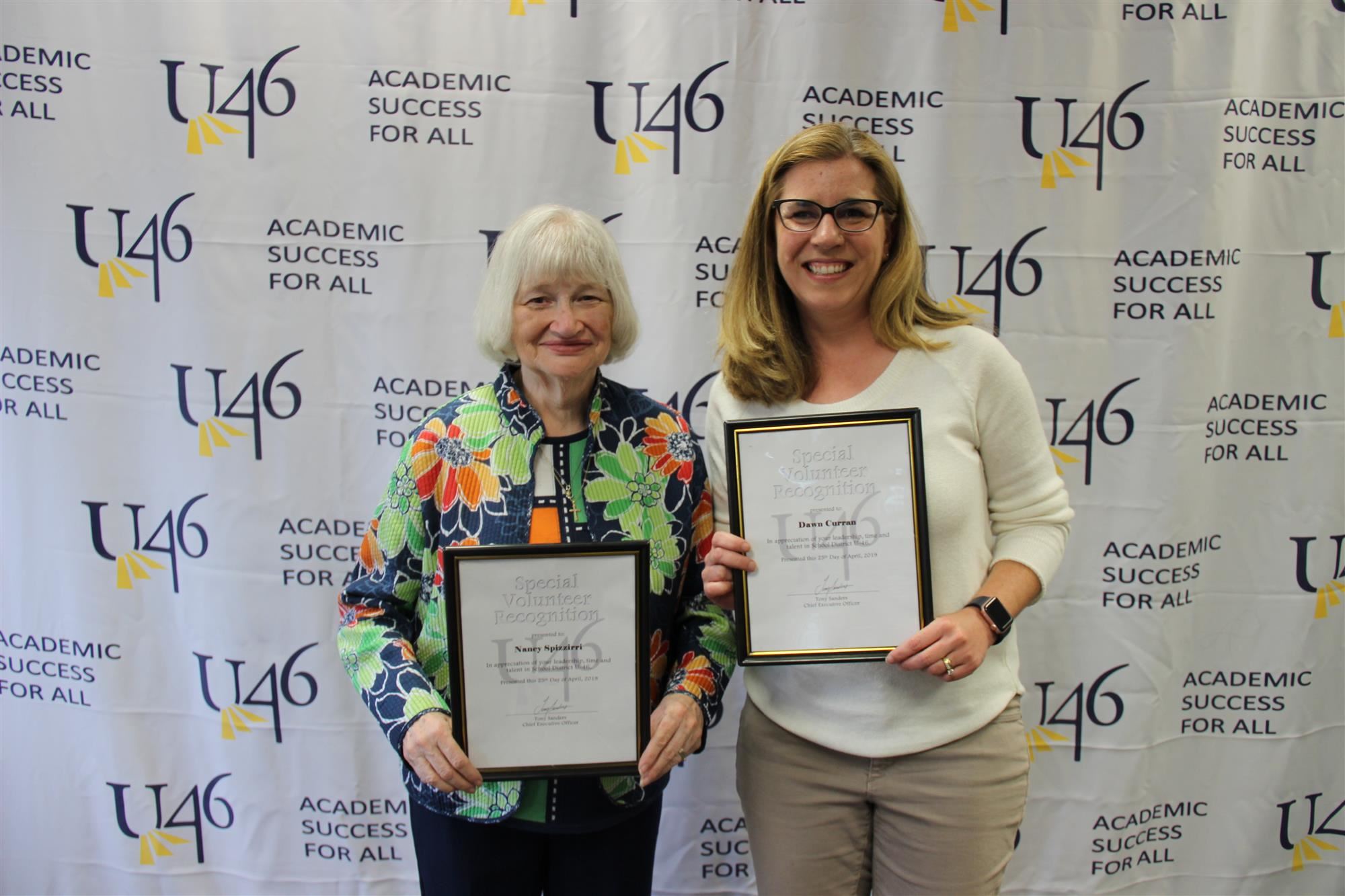 Phone:
Email:
Degrees and Certifications:
Nancy Spizzirri

Volunteer at Bartlett Elementary School

Nancy Spizzirri has spent the past 15 years volunteering at Bartlett Elementary School, working full-time in various classrooms at the school.

Nancy knows the curriculum and rhythms and routines of each of the classrooms she serves, and students at Bartlett Elementary benefit by receiving continuous small-group and one-on-one support from a caring and knowledgeable adult known for her smiling face and willingness to always lend a hand.

Karen Luebke, former principal, says students and teachers in Nancy's classrooms are "extremely lucky and blessed" to have a volunteer who is like "having a full-time FREE employee."

Nominated by: Former Principal, Karen Luebke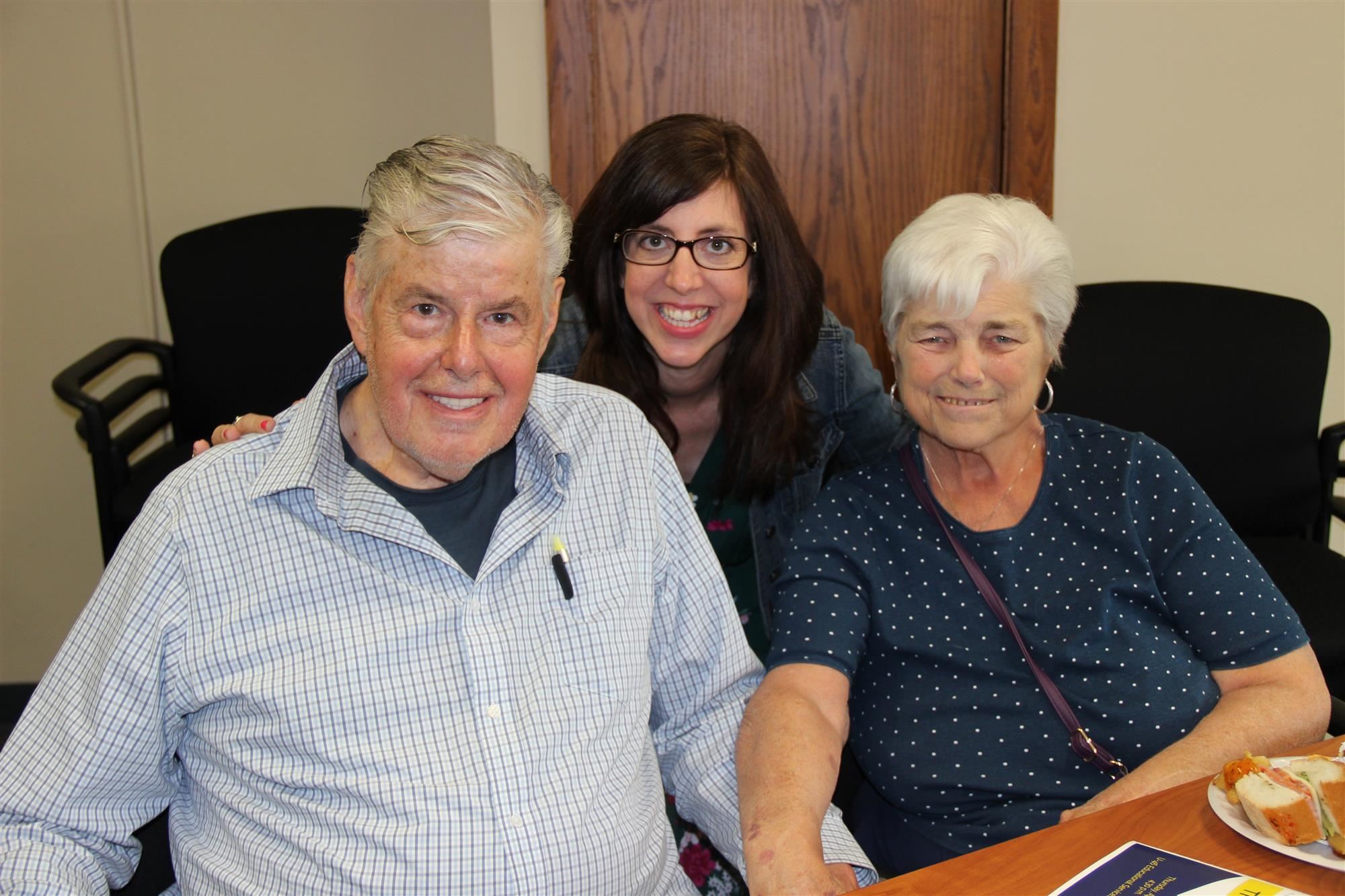 Phone:
Email:
Degrees and Certifications:
George Rodman

Volunteer at Illinois Park Early Learning Center

George Rodman volunteers three afternoons each week in the Early Childhood classroom of Amy Haffner at Illinois Park. "Mr. George," as he is known, provides assistance to students, many of whom come from at-risk backgrounds or have experienced trauma.

Mr. George helps students build resiliency, make connections and foster relationships.

"One of the students has only been in the country for less than a year and had a hard time adjusting to the school," says Ms. Haffner. "Mr. George and this student formed a relationship and it has helped this student's positive social behavior so much."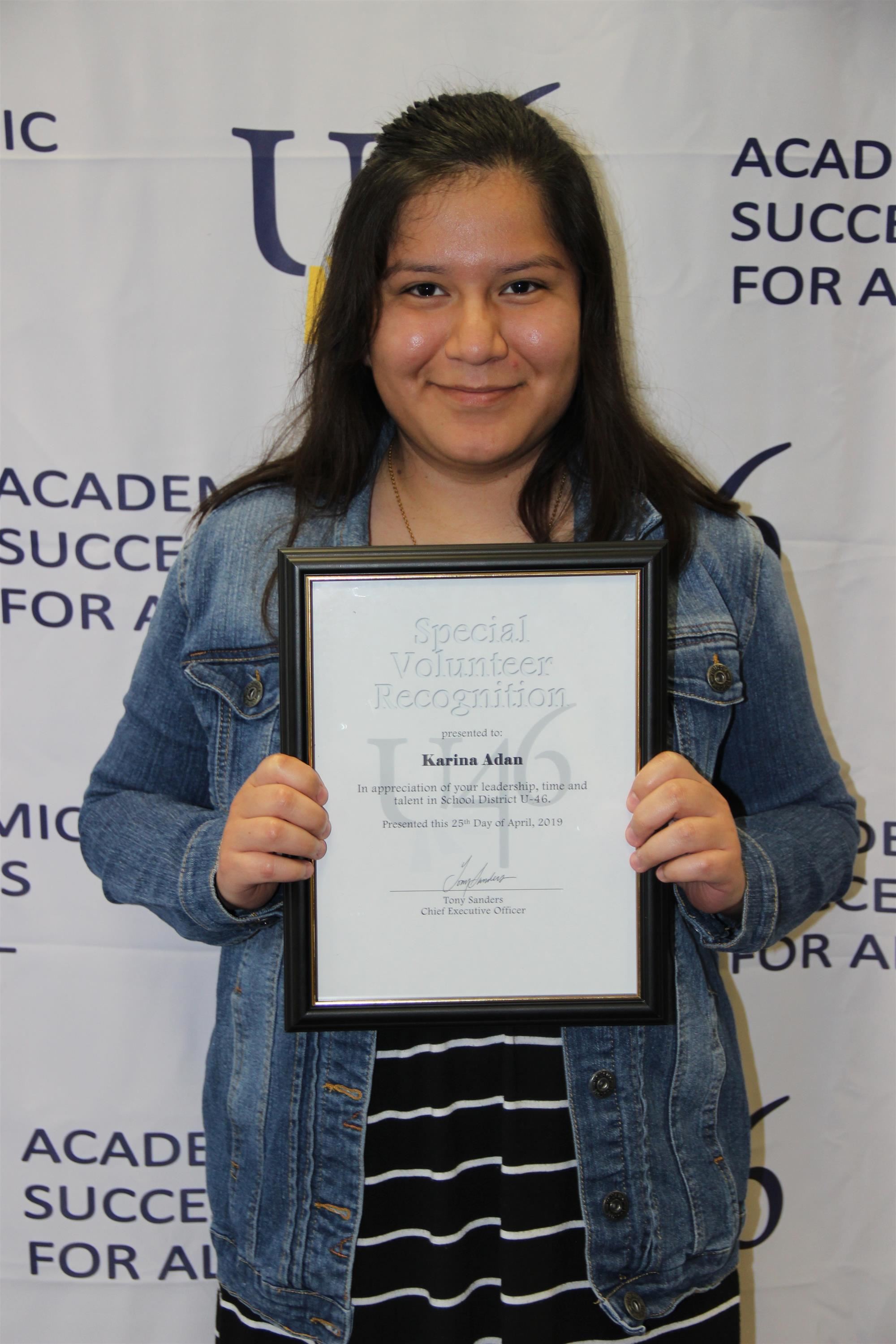 Phone:
Email:
Degrees and Certifications:
Karina Adan

Volunteer at Streamwood High School

An officer in the Streamwood High School National Honors Society, Karina Adan is a regular volunteer in the group's activities. Currently, according to Erika Hernandez Pastrana, Karina is doing research on PADS in Elgin, an organization that provides relief for the homeless. Karina and fellow students have undertaken this project in an effort to collect supplies to support Elgin PADS. She also takes her creativity to Oakhill Elementary School to put together the school's Haunted House enjoyed every year by the students. Karina is part of the World Languages and International Studies Academy where she is learning Mandarin, a skill she doesn't keep to herself. She takes it back to teach the students of the Hanover Township Open Gym this new language.

Nominated by: Streamwood High School Volunteer, Erika Hernandez Pastrana
Phone:
Email:
Degrees and Certifications:
Elgin High School Parent Teacher Organization

Each March for the past 46 years, the Elgin High School PTO undertakes the monumental task of planning, advertising, setting up, and holding its annual fundraising flea market at the school. Funds from the event help award two scholarships for EHS seniors as well as 12 teacher grants that underwrite student organization activities that demonstrably impact student learning and achievement.

The event, under the direction of the PTO, also provides an opportunity for Elgin High students to participate as volunteers in the various stages and phases of the flea market, ranging from setting up, assisting vendors, interacting with community members, and, ultimately, contributing to the overall success of their high school and each of its students.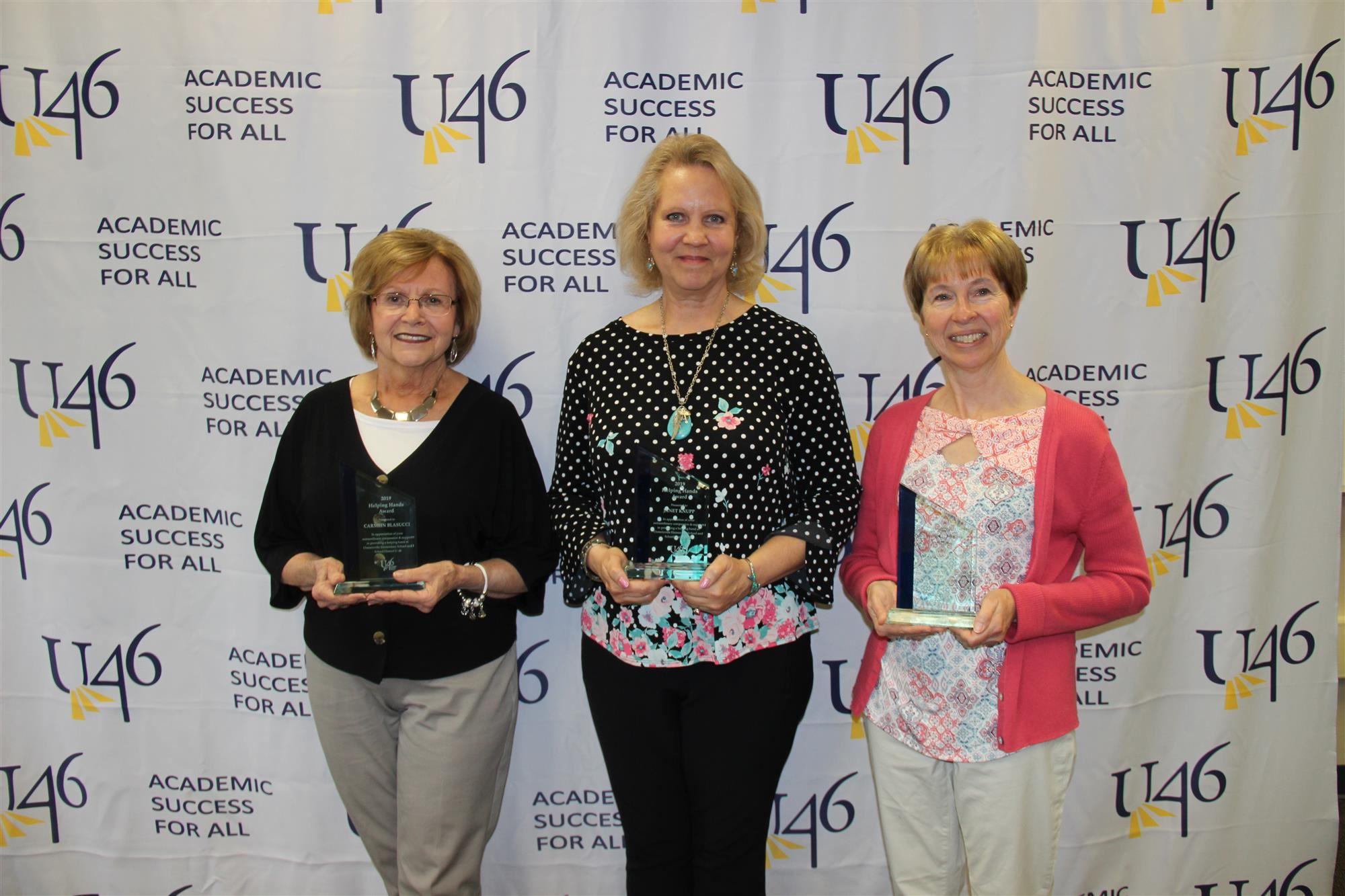 Phone:
Email:
Degrees and Certifications:
Harriet Kunesh, Carmein Blasucci and Janet Knupp

Volunteers at Ontarioville Elementary School

For the past eight years, Harriet Kunesh, Carmein Blascucci and Janet Knupp of Poplar Creek Church in Bartlett have been strong volunteers at Ontarioville. They have faithfully attended the annual supplies drop-off event, helped distribute food and snacks to students, set up tables of homegrown vegetables they gathered for parents to take home.

Janet has mentored a group of boys in a one-on-one setting, while Harriet and Carmein worked together mentoring a group of sixth-grade girls through a local Girl Scout troop.

"Without these three volunteers," says Principal Dr. Elizabeth Ma, "Ontarioville would not be where we are today. We deeply appreciate everything they have done for our students, staff, families and community."

Nominated by: Principal, Dr. Elizabeth Ma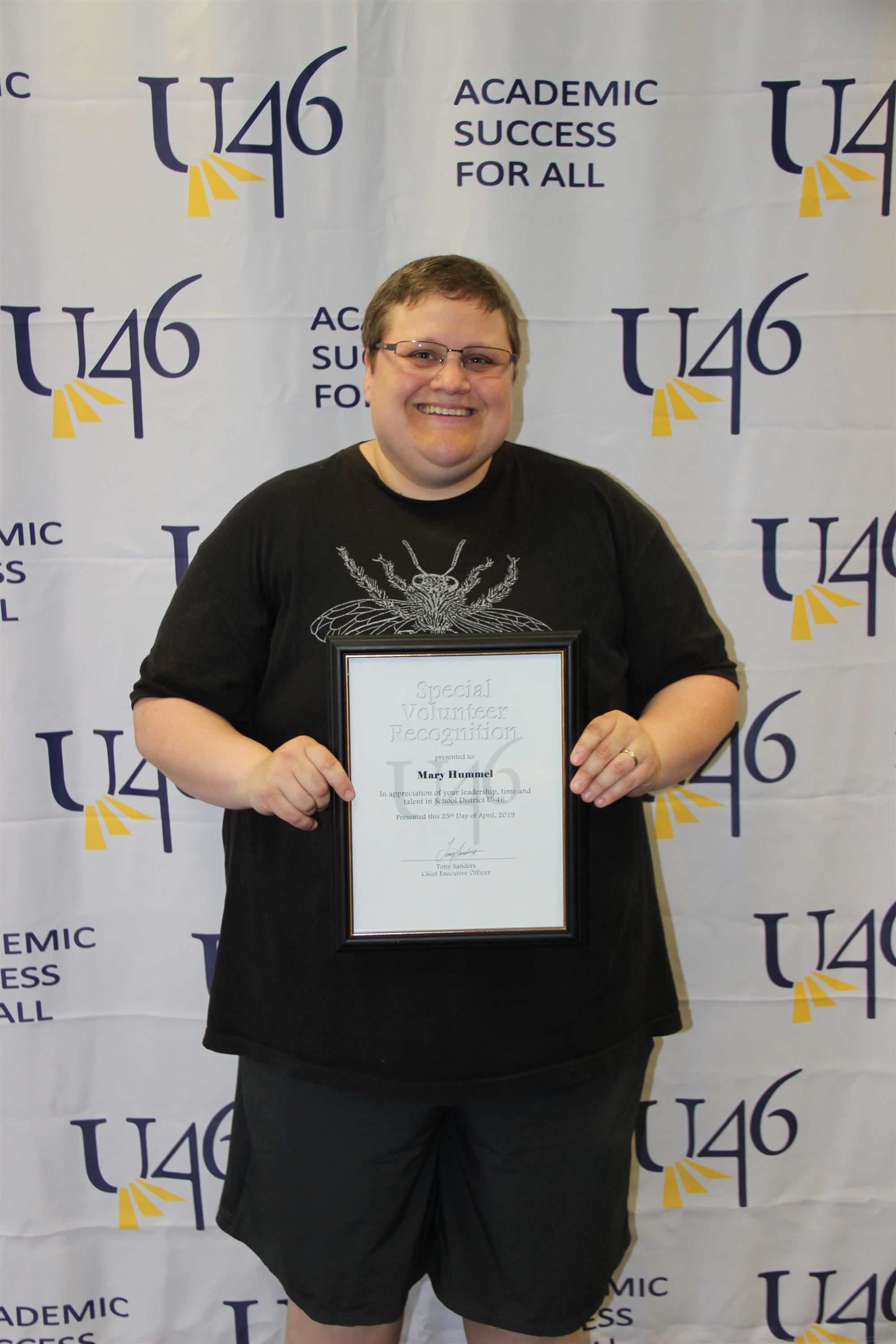 Phone:
Email:
Degrees and Certifications:
Mary Hummel

Volunteer at Ronald D. O'Neal Elementary School

Mary Hummel is and has been a dedicated volunteer to Ms. Abernathy's third-grade classroom at Ronald D. O'Neal Elementary. There, she serves as an extra set of eyes and hands on field trips and for classroom events.

But Mary's true value comes less from these big occasions than from the day-to-day things she brings to her time inside the classroom, where students have come to trust and respect her. "She's there for the big stuff, like helping students stand up to bullies," says Amanda Bremberg, "and for the 'little' stuff like reminding students to write down their assignments at the end of each day."

Nominated by: Amanda Bremberg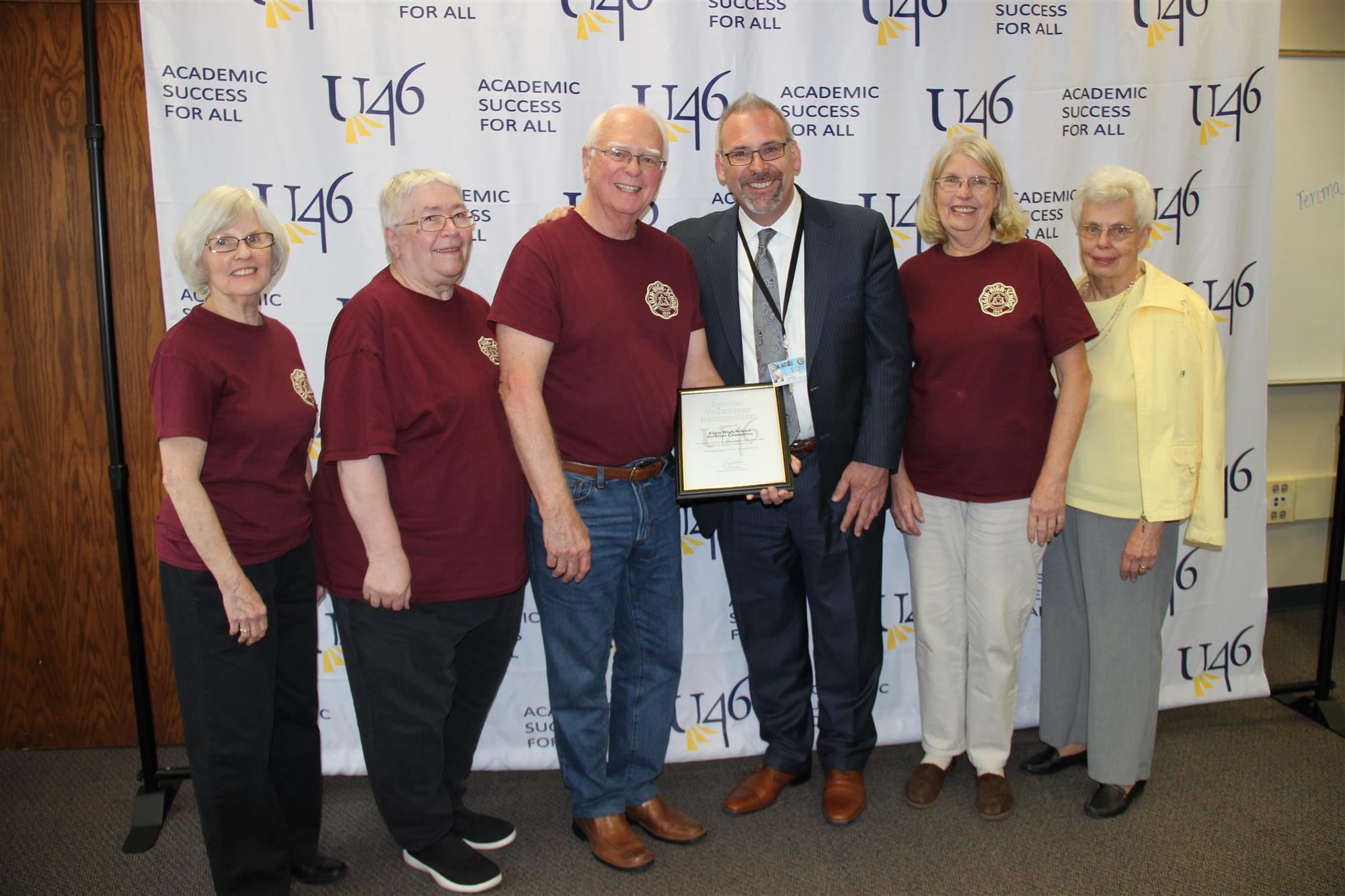 Phone:
Email:
Degrees and Certifications:
Ricky Harris, Judy Sorton, Barbara Cook, Pat Sanders and Chandler Swan

Volunteers at Elgin High School

Bringing history to life and keeping it alive has been the mission of these five members of the Elgin High School Class of 1960. For seven years, once a week, on Wednesday afternoons, this quintet has journeyed back to their alma mater to work in the EHS Archive Room, digging through documents, photographs and other artifacts from the 150-year history of their school.

These five alums helped manage and they continue to develop the archives of the storied institution, and their efforts have resulted in the recent publication of an Elgin High School historical calendar and the event that the calendar was promoting, the school's recent sesquicentennial celebration. As Principal Krystal Thomas put it, these five alumni work "to keep the traditions of EHS going!"

Nominated by: Principal Krystal Thomas
Phone:
Email:
Degrees and Certifications:
Robert Cox

Volunteer at Lords Park Elementary School

Through his work with various events and groups, Bob Cox is recognized and respected by students and staff members at Lords Park Elementary. He has worked with the Lords Park Elementary Chorus, the school's Guitar Club, chaperoned field trips, supervised concerts and even performs with the musical groups.

Perhaps Bob Cox's greatest attribute, according to music teacher Mark Hutson, is "improving the school culture every time he is in the building. He is quick to volunteer for different events, recognizes what needs to be done, and does it with enthusiasm."

Nominated by: Music Teacher, Mark Huston
Phone:
Email:
Degrees and Certifications:
Ruth Rumbles

Volunteer at Hanover Countryside

This year alone, Hanover Countryside PTO President Ruth Rumbles has been instrumental in coordinating efforts to modernize the school's playground. The fruits of this effort, by the way, will not be enjoyed by her own children, as completion of the project will take place after they have already departed for middle school. And that's just one example, this year, of what Ruth does for Hanover Countryside.

She is, according to Matthew Hovey, a leader by example on every occasion. No task, he adds, is too large or too small, from wrapping hot dogs for the school's welcoming open house to working on the annual fun fair.

Says Mr. Hovey, "She could have been nominated in any of the five years that I have witnessed her dedication to the parents and students of our school."

Nominated by: Matthew Hovey
Phone:
Email:
Degrees and Certifications:
Tamara Hopkins

Volunteer at Horizon Elementary School

As PTO president for the past three years, Tamara Hopkins has worked hard to bring teachers and the community together to support students at Horizon. She has raised money for 30 laptop computers inside the school and new swings for the outside. She has been a supporter of the Accelerated Reading program and has also brought relevant PBIS assemblies about bullying to the school

In addition, Tamara attends all CAC meetings, shares information at PTO meetings to help parents stay abreast of new developments in the District, and has volunteered tirelessly whenever it has been needed.

According to Principal Dr. Jennifer Schwardt, Tamara "helps our school shine bright."

Nominated by: Principal Dr. Jennifer Schwardt
Phone:
Email:
Degrees and Certifications:
Dawn Andrew

Volunteer at Fox Meadow Elementary School

Through her service as treasurer for the Fox Meadow PTO, Dawn Andrew has been a leader in sound fiscal policy and planning and budgeting for projects at the school. With her help, the school has raised $20,000 over the past two years toward a new playground for the school.

She has also volunteered and/or chaired many events at the school. She has worked tirelessly to run concessions at many Fox Meadow events, and volunteers daily in the drop-off and pickup line at the school.

"Families love being greeted by her friendly smile, words of encouragement and kindness every morning," says Lindsey Ballschmiede.

Nominated by: Fox Meadow PTO President 2018-19, Lindsey Ballschmiede