Student Survey on Issues of Equity and Inclusion - 2020
As part of its ongoing equity work, School District U-46 distributed a survey in spring 2020 to explore student experiences and perceptions with equity and inclusion in school. All students in grades 4th through 12th were invited to participate between May 11-22, 2020. (Note that students were asked to complete this survey on their own time while school buildings were closed due to COVID-19.)

The Equity and Inclusion Survey results established a baseline for future improvement as part District's equity plan. Results helped inform school climate and culture improvement work and responded to the U-46 Board of Education's call to ensure we capture student voice in our work. The District worked with Panorama Education, a leading K-12 research company, to administer this survey.
Total responses 5,507 - that is a 22 percent response rate for students in grades 4th through 12th

Female response rate much higher than male (27% to 16%)

Students in our gifted programs were twice as likely to complete the survey (42%)

Students with lower than 90 percent attendance were half as likely to complete the survey (11%)

African-American male students were half as likely to complete the survey (11%)

Highest participation came from grades 6-8 (26%) and lowest from high school (18%)

The survey was divided into four topics with several questions under each.

What feedback did students have for their school on the following topics?

Diversity and Inclusion - 76% favorable

U-46 Student Summit - 76% favorable

Sense of Belonging - 53% favorable

Cultural Awareness and Action - 36% favorable (Note that in this topic, almost half of our students said they are confident that students at their school can have honest conversations about race, but only 13 percent indicated those conversations are actually happening.)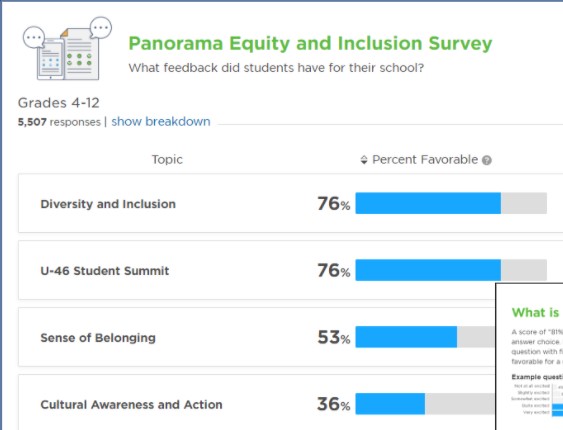 A Sample of Questions and Responses
Question: How confident are you that students at your school can have honest conversations with each other about race?

49% of students responded favorably

Question: How often do students at your school have important conversations about race, even when they might be uncomfortable?

13% of students responded favorably

Question: Do you believe all students have the opportunity for success at your school?

86% responded favorably

Question: Have you ever personally experienced discrimination or race/culture/ethnicity based inequality within your school?

81% responded favorably

At your school, how often do students from different races, ethnicities, or cultures hang out with each other?

76% responded favorably