U-46 Educational Foundation
The U-46 Educational Foundation is a non-profit 501(c)(3) organization that has been collecting donations since 2008 to expand opportunities for U-46 students beyond what is possible with tax dollars. Our primary means of fundraising is through individual and corporate donations.

The Foundation's focus is districtwide, aimed at supporting projects that impact a significant number of U-46 students or schools by providing activities that enhance, enrich and complement existing opportunities. In honor of Teacher Appreciation Week in May 2019, students, alumni, and parents were invited to recognize a special teacher, current or retired, by making a donation to the U-46 Educational Foundation. You can learn more here about that effort, which recognized more than 110 teachers.

The Foundation also accepts donations for the Superintendent's Scholarship program, which was created in 2012 by to celebrate first-generation college students. Since then, more than 220 U-46 graduates have received a $1,000 scholarship and been honored as recipients of the Superintendent's Scholarship at a reception in the spring. The 2019 recipients are pictured below.

If you'd like to support the 2020 Superintendent's Scholarship, you can use the online option below. Where it says "special instructions (if any)," please type in SS 2020 and complete the form. A PayPal account is not necessary to donate as debit and credit cards are also accepted as forms of payment. If you'd rather pay by check, you can mail your checks to U-46 Educational Foundation, 355 East Chicago Street, Elgin, IL 60120. Include "Superintendent's Scholarship" on the check's memo line. The Foundation will ensure that your donation goes toward a $1,000 scholarship for one of our winning 2020 graduates.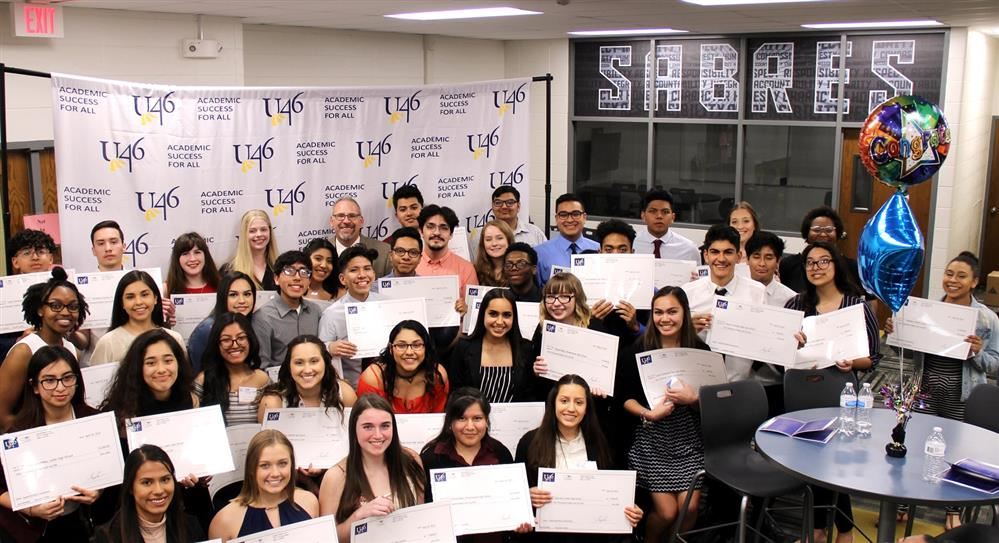 Contact the Foundation

Phone: 847-888-5000, ext. 5040

Mail:

U-46 Educational Foundation
355 E. Chicago St.
Elgin, IL 60120-6543