Improve our schools - with Zero-Tax-Rate-Change

THANK YOU, School District U-46 residents, for voting on the zero-tax-rate-increase bond issue. Unofficial results from the election showed approximately 62% voting in favor of the proposal. A 50% majority was required for the measure to pass.

The bond issue will fund projects to make safety and security improvements, renovate and replace building infrastructure, add classrooms for early childhood education, improve accessibility, construct STEM labs and classrooms, and provide an improved learning environment for U-46 students. Thank you for making U-46 a great source of pride for our community.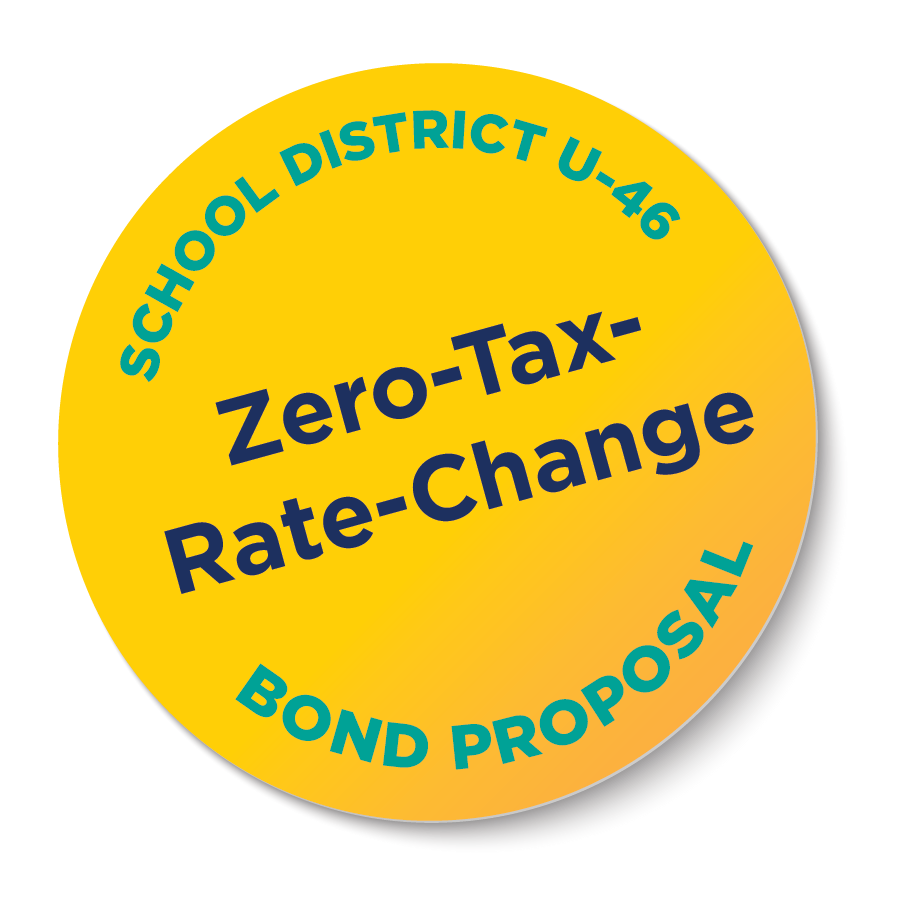 Addressing Our Needs, Protecting What Matters Most
On Tuesday, April 4, voters in the eleven School District U-46 communities approved a zero-tax-rate-change bond proposal. The bond proposal will:

Address our Needs and Benefit Kids & Families

Implement a true 6th through 8th grade middle school model districtwide.

Ensure all U-46 schools have up-to-date safety and security features, including secure entryways, lockable doors in every classroom, and are ADA accessible.

Improve equitable access to programs at more schools districtwide.

The improvements we make now will benefit many generations of students and families who live, and who will live, in the U-46 district.

Protect What Matters

Click here to view capital projects the District should be able to complete in the next five years, as of 2022, including:

Updating elementary school buildings and supporting expanded preschool opportunities for more students districtwide.

Adding and maintaining more outdoor learning spaces and environments and updating playgrounds and greenspaces.

Increasing the annual budget for maintenance and repairs by $10 million per year. Our schools represent a $1.5 billion investment by our district and its taxpayers, and increasing the maintenance budget will protect that investment by proactively maintaining and updating building infrastructure items like roofs, windows, electrical systems, plumbing and HVAC systems.

In addition to the $179 million in bond funding, U-46 will utilize up to $200 million in reserve and operating funds, along with grant funding, to meet these needs, which were defined by the community in the Unite U-46 community engagement program.

No change to the tax rate for homeowners

U-46 had a unique opportunity to implement these improvements without changing the tax rate residents currently pay; as previous debt from a referendum in the early 2000s is paid off, the district can take on new debt without changing the tax rate homeowners pay.

This is similar to taking out a home equity loan to make major home repairs or updates while keeping your mortgage payment the same. It is important to understand that, for any given year, the amount of property taxes you pay to support our schools might change based on changes in the assessed valuation of your property. However, the tax rate for debt retirement will not change if voters approve School District U-46's proposal. More information is available here.

Questions or Comments?
A comprehensive list of FAQs is available here. If you have additional questions or comments about the zero-tax-rate-change ballot proposal, please use our Let's Talk online customer service tool.