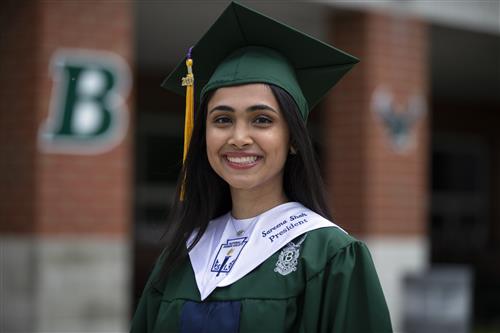 What school will you be attending in the fall?
University of Missouri-Kansas City
Major/minor?
I will be in the integrated BA/MD program.
What is the most important thing you learned in high school?
The most important thing I learned in high school is to never be complacent. Throughout my four years - I've learned to challenge myself, whether that be in the classroom, during a tough hill workout, or following my dreams. By aiming for the stars, I remain determined and motivated to achieve my goals
What is your favorite high school memory?
My favorite high school memory has to be the SASA show Bartlett High School presents every year. Being a part of SASA has allowed me to make lifelong friends and continue my passion for dancing. I am so sad the SASA show is cancelled this year, but I'm excited to come back and see it as an audience member.
What was your favorite class or learning experience?
My favorite class was AP Biology with Mr. Katz. Not only does he make learning enjoyable through several hands-on activities, but he is always open to answering any questions I have.
Share your best advice for incoming freshmen.
My advice to freshmen is to be involved! Joining clubs and sports throughout high school allowed me to meet so many new people and find new passions. By being involved, you can find your interests and build upon them throughout high school.
What or who do you account for your academic success and ranking in the top 2 percent of your senior class?
I account my success to my parents, grandparents, and younger brother. They have pushed me to follow my dreams, and they have always supported me. Through late-night study sessions, sporting events, and presentations, they have always been there to cheer me on. My success would mean nothing without them by my side.
What are you learning about yourself and the world as we collectively face this global pandemic?
During this global pandemic, I have learned to appreciate how fortunate I am to be safe and healthy during this fearful time. I wish I could be fighting at the forefront of this pandemic, but until then, I will continue to practice social distancing and encourage my peers to do the same. I know we will get through this together as a nation, school district, and community.