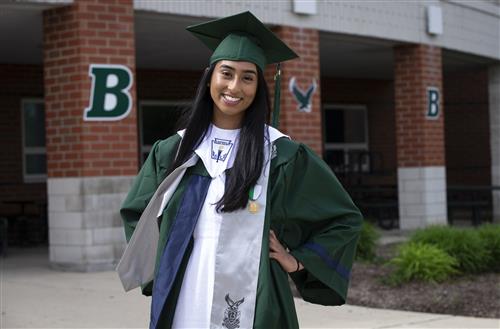 What school will you be attending in the fall?
University of Illinois at Chicago
Major/minor?
Major: Neuroscience
What is the most important thing you learned in high school?
I learned to not stress about things that are beyond my control and to focus my time and energy on the things I can control.
What is your favorite high school memory?
HOSA and DECA state competitions were definitely my favorite high school experiences. I loved getting to meet people from other schools and competing with my best friends. These competitions always brought us closer together.
What was your favorite class or learning experience?
All of my math classes have been amazing. Before high school, I didn't even like math; however, thanks to the incredible math teachers at Bartlett, I grew to appreciate it more each year. English with Mr. Miserendino was another one of my favorite classes. I had this class first period sophomore year, and it was always such a fun start to my day.
Share your best advice for incoming freshmen.
High school is what you make of it, so get out of your comfort zone and try new things. Do not shy away from joining a club or trying out for a sports team just because your friends decide not to. You will find new friends along the way! Another piece of advice I would like to share is that it is never a bad idea to explore careers you might want to pursue. Do some research, reach out to adults, and most importantly, shadow professionals of various fields.
What or who do you account for your academic success and ranking in the top 2 percent of your senior class?
I credit my success to my family, who has always supported me through all my academic endeavors. They have encouraged me to take on challenges and avoid settling. In particular, my sister influenced me enormously. She is one of the most independent, determined people I know, and I hope to keep growing into the hardworking student she is. Even though she was away at college for the majority of the last two years, I knew she believed in me and supported me more than anyone else.
What are you learning about yourself and the world as we collectively face this global pandemic?
I am learning how important it is to find the silver lining in every tough situation and to not take anything for granted, because nothing is ever guaranteed.