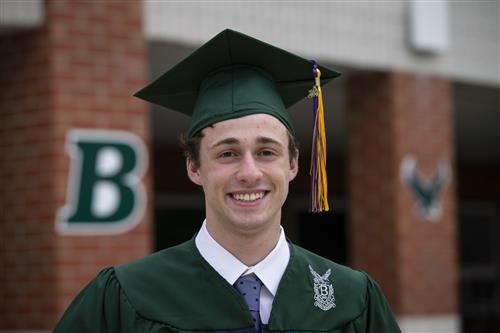 What school will you be attending in the fall?
University of Michigan
Major/minor?
Biology
What is the most important thing you learned in high school?
I learned the importance of the saying "work hard, play hard." You can reach your educational goals, whether it be an admission to a dream school or straight A's, while still being to enjoy all the great things life has to offer: friendship, family, and creating memories you will never forget.
What is your favorite high school memory?
I would say my favorite high school memory would be homecoming this year. I finally realized how much everything was coming together in not only my life, but in the lives of those I care about. It was one of the last big moments that my friends and I would be able to share together.
What was your favorite class or learning experience?
AP Human Geography with Mr. Bez.
Share your best advice for incoming freshmen.
I know that school might be important to you and you think the world may come crashing in. It is most important to remember you're still young. Don't lose sight of who you are and all the great things you could be missing out on. You'll regret it one day. Once you learn to balance both your school and personal life, you'll never be happier.
What or who do you account for your academic success and ranking in the top 2 percent of your senior class?
I attribute my success to all my friends and family. High school was very stressful and certainly more work than I believed it would ever be. My friends and family helped me forget about all the stress that school piled on me and showed me that I could still have a good time. They showed me more support than I could have ever asked for and for that, I am forever grateful.
What are you learning about yourself and the world as we collectively face this global pandemic?
I am learning how important it is to put the needs of others above your own. No matter how much I miss my friends or how upset I am about the destruction of my senior year, I believe that we are all doing the right thing.