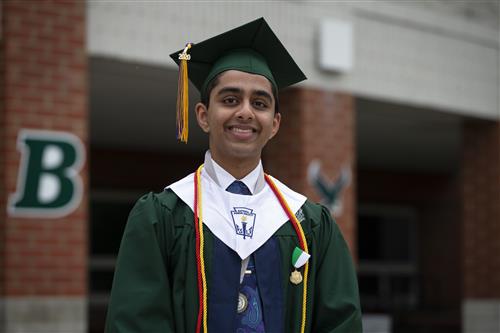 What school will you be attending in the fall?
Loyola University Chicago
Major/minor?
Biology
What is the most important thing you learned in high school?
To find the correct balance between learning and having fun.
What is your favorite high school memory?
My favorite high school memory was working on our year-long project in Engineering Design and Development. My group created a Smart Mirror that gives the time, weather, and news all while you get ready for your day. Our project was presented in front of a panel of judges and at the Academy Showcase.
What was your favorite class or learning experience?
My favorite class was Senior Technology with Mr. Morales. The environment was totally different compared to my normal classes, as we embarked on our own individual projects for the year.
Share your best advice for incoming freshmen.
Create an ideal schedule where you have time slots for both entertainment and studying. Follow that plan as best you can each and everyday.
What or who do you account for your academic success and ranking in the top 2 percent of your senior class?
I give both of my parents absolute credit for my success by providing me with the proper academic foundation at an early age to ensure that I was ready for the future.
What are you learning about yourself and the world as we collectively face this global pandemic?
Due to this pandemic, I have learned that the world, including myself, has become too accustomed to our previous lifestyles. Everyday is a new struggle for the public as we attempt to adapt to our new lives.