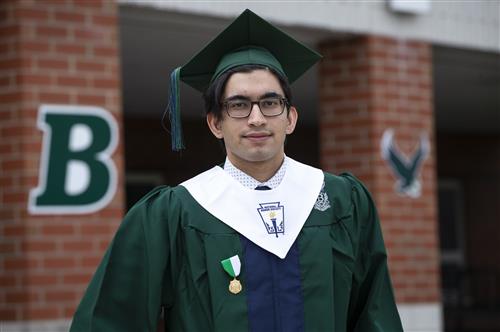 What school will you be attending in the fall?
University of Wisconsin - Madison
Major/minor?
Computer Science
What is the most important thing you learned in high school?
Make sure to make an effort towards everything you do. because it can spark an interest you never knew you had.

What is your favorite high school memory?
Flying to Boston for Harvard Model Congress with my friends is a memory I will never forget. It was a fun filled experience that provided me with a glimpse of the real world.Share your best advice for incoming freshmen.

What was your favorite class or learning experience?
My favorite class was AP Physics C with Mrs. Brandner. Her hands-on labs were not only designed to let our class have fun, but they also allowed us to grasp a deeper understanding of the subject material.

Share your best advice for incoming freshmen.
Make sure you find the perfect balance between work and fun. A great work ethic is an important skill you can develop in high school, but having fun is also a key part of your high school career.
What or who do you account for your academic success and ranking in the top 2 percent of your senior class?
I have to attribute my success to my family, my friends, and my teachers at BHS. My family has provided me with unconditional support and invaluable life lessons during my educational career. I thank them for motivating me to put 100% effort into everything I do. I also want to thank my friends for the collaborative efforts we made to overcome any challenge. Finally, I want to thank Mr. Morales, Mr. Wetendorf, Ms, Questch, and Mr. Lorber. Due to their efforts, I was able to take an interest in what I was learning, and that allowed me to prosper in the academic setting.
What are you learning about yourself and the world as we collectively face this global pandemic?
The pandemic has disrupted countless events and plans, but it brought back the valuable gift of time. The time we have now can be used to break away from the tiring daily routine and to better ourselves in every way possible. Now is the time for us to unite and grow together.