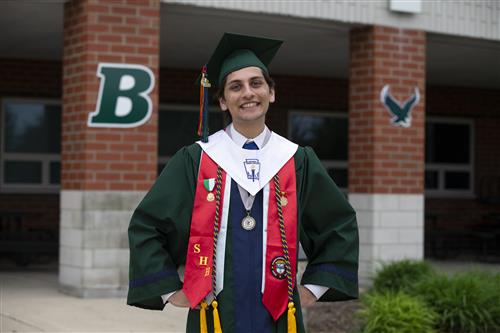 What school will you be attending in the fall?
Saint Louis University (MLK Scholarship Recipient)
Major/minor?
Forensic Science on a Pre-Medical Track
What is the most important thing you learned in high school?
I learned that everything may not go your way, but it is still important to work hard and try your best because you will succeed in the future.
What is your favorite high school memory?
My favorite memory is Mock Trial Internationals in San Francisco. I was able to portray a witness and an attorney for which I was nominated for awards in both.
What was your favorite class or learning experience?
My favorite class is AP Psychology with Mr. Bez. He is truly a wonderful teacher, and I learned to look at life differently because of his class. I was inspired to pursue medicine because of his teachings.
Share your best advice for incoming freshmen.
My advice is to do what you love. There is no need to worry about having a flashy resume or a stellar GPA when you can do what makes you happy.
What or who do you account for your academic success and ranking in the top 2 percent of your senior class?
I owe my academic success to my teachers and my parents. First, my teachers, including Mr. Bez, Ms. Schiada, Mrs. Hasan, Mr. Johnson, Mr. Church, Mrs. Hoch, and every other teacher at BHS, are the reasons that I learned how to work hard and strive to succeed. Secondly, my parents have worked their entire lives to make sure that I am happy and healthy, so I wanted to thank them for inspiring me to fulfill my dreams.
What are you learning about yourself and the world as we collectively face this global pandemic?
There is a quote by Shannon L. Adler: "Storms don't come to teach us painful lessons, rather they were meant to wash us clean." I have learned throughout this pandemic that everything happens for a reason, so we must seize this opportunity to reevaluate our lives and make changes for the better. We are all in this together!