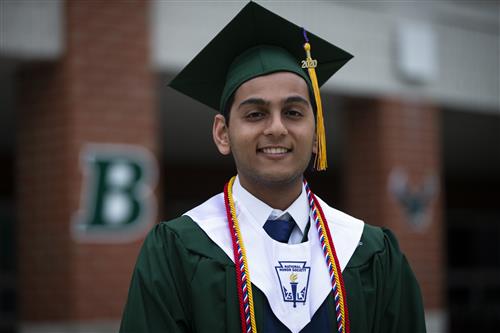 What school will you be attending in the fall?
Georgia Tech.
Major/minor?
Computer Science.
What is the most important thing you learned in high school?
There are definitely times when you're going to feel overwhelmed and that's completely fine. We all experience stress at some point or another. Just be sure to take a deep breath, take things one step at a time and reach out for help whenever you need it.
What is your favorite high school memory?
My favorite memory at Bartlett has to be the entire week of SASA. It's a dance performance put on by the South Asian Student Association and it's a fantastic way to display our culture and have fun. We get to see the entire year's worth of hard work come together that final week and bond with tons of people!
What was your favorite class or learning experience?
AP Psychology with Mr. Bez is never a bore. It's funny considering the class is mostly note-taking but Bez makes it entertaining with his witty jokes and relatable nature. He enjoys working with his students and wants them to succeed.
Share your best advice for incoming freshmen.
Make some friends! Join clubs or a sport that interests you and start talking to other people. We were all shy freshmen at some point, but getting yourself out there and making a group of friends will truly make high school an enjoyable part of your life.
What or who do you account for your academic success and ranking in the top 2 percent of your senior class?
I attribute my success to my friends and family. My wonderful parents were always supportive during my years of high school and truly people that I could rely upon. My brother, while away for college, was also very helpful throughout the process as he had gone through it himself. A little (friendly) sibling rivalry never hurt anybody. Lastly I want to thank my friends for their continued presence and support.
What are you learning about yourself and the world as we collectively face this global pandemic?
I learned exactly how many tiles are on my kitchen floor. On a more serious note I've learned not to take things for granted. Just a few weeks before covid-19 closed down schools we were joking about graduation and who would trip on their way up. Everything changed so quickly but it's important to cherish the times we had together.