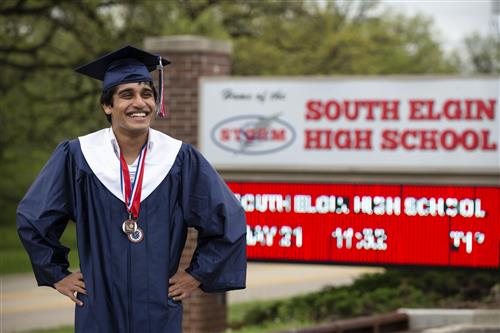 What school will you be attending in the fall?
University of Michigan- Ann Arbor
Major/minor?
Computer science with a minor in mathematics
What is the most important thing you learned in high school?
I learned the importance of time management. This allowed me to participate in multiple clubs and still be able to finish all of my school work.
What is your favorite high school memory?
My favorite memory is when I participated in our school's annual culture show during my junior year.
What was your favorite class or learning experience?
My favorite class was AP Biology with Mrs Huisinga. She was an amazing teacher, she made class challenging, but enjoyable.
Share your best advice for incoming freshmen.
My advice would be to get involved in different clubs or sports teams at school to meet new people and learn time management skills. Also, develop strong study habits as a freshman.
What or who do you account for your academic success and ranking in the top 2 percent of your senior class?
I credit my success to my family because they taught me to always do my best and to have confidence in myself, which is something I will always be grateful for.
What are you learning about yourself and the world as we collectively face this global pandemic?
I am learning how interconnected we all are, realizing that we can save many lives if we all follow social distancing rules and other federal guidelines. I am also very grateful to have millions of health care professionals working everyday to save as many lives as possible.