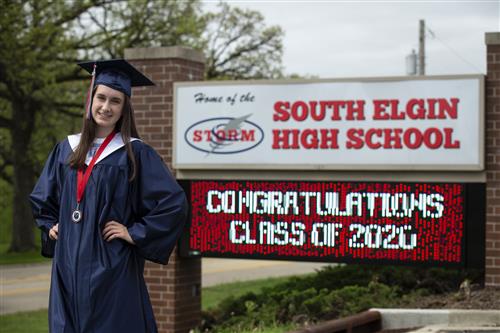 What school will you be attending in the fall?
Colorado School of Mines
Major/minor?
Civil Engineering
What is the most important thing you learned in high school?
Don't judge a book by its cover, do not just assume that you know who a person is if you've never talked to them before. I've met many people who I misjudged and once I got to know them I realized I was wrong about my assumptions and they turned out to be amazing friends.
What is your favorite high school memory?
My favorite high school memory is when my soccer team won conference my junior year. After coming off of a three-win season my sophomore year, it felt so amazing to have our hard work pay off. And for that to now potentially be my last time playing high school soccer, I feel so incredibly blessed to have ended on such a high note.
What was your favorite class or learning experience?
I think one of my favorite learning experiences was going to Cedar Point my freshman year for marching band. I had so much fun with my friends, but I also learned a lot about music while listening to the other bands that were there.
Share your best advice for incoming freshmen.
It is so important to get involved during your time in high school: clubs, sports, extracurriculars, try to do it all. You will not only meet so many new friends, but you'll get to create many memories and gain new experiences.
What or who do you account for your academic success and ranking in the top 2 percent of your senior class?
I want to thank my mom, my friends, and my teachers for their help with my academic success. I don't think I would be where I am today if I hadn't received such constant and genuine encouragement from all of them. They not only pushed me, but helped me learn important things about myself and the world.
What are you learning about yourself and the world as we collectively face this global pandemic?
I've learned that I need to start appreciating the little things in life and enjoy each day to the fullest. I have also learned that humanity as a whole is resilient. With everything that's going on people are still trying to see the positivity in the world and support each other through this hard time.