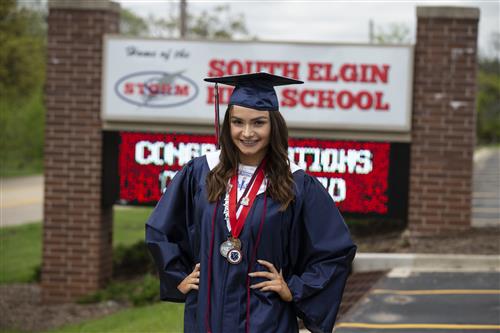 What school will you be attending in the fall?
Purdue University
Major/minor?
Pharmaceutical Sciences - pursuing a Doctorate of Pharmacy
What is the most important thing you learned in high school?
The most important lesson I learned throughout high school is that life is unpredictable. No matter how much we try to control our lives, some things will always remain out of our influence. Therefore, it is important to recognize that change is inevitable, and in situations in which we are out of our comfort zones, the ability to adapt is the key to success.
What is your favorite high school memory?
My favorite memory throughout all of high school was being able to attend the HOSA international competition two years in a row. HOSA is a club designed for students to compete in healthcare orientated events, and placing in the top 3 of your event qualifies you for a competition in the summer with students from every state and multiple countries. The summer after my sophomore year I went to Dallas, and the summer after my junior year I went to Orlando. Throughout the experience of competing alongside so many students passionate about healthcare and all the unforgettable memories I made with my best friend by my side, I watched my love for science-related topics grow. With this, I became sure that a future within the medical field was right for me.
What was your favorite class or learning experience?
My favorite classes were the series of PLTW (Project Lead the Way) healthcare classes. I took Principles of Biomedical Science, Human Body Systems, and Medical Interventions, and loved each of them. These electives gave me the opportunity to engage in what interested me personally. The teachers went above and beyond to create content that kept students interested in the coursework, whether that was through labs or projects. If it wouldn't have been for these classes, I would not have been able to learn about material that I have always wanted to know more about.
Share your best advice for incoming freshmen.
At moments, high school can be overwhelming. Whether it is an overload of work, or material that is too confusing to understand, it is guaranteed that you'll face some struggles. But, in high school, it doesn't really matter what you learn. It isn't memorizing a list of vocabulary words or being able to solve every math equation that is going to make you a successful person. What matters is what you will learn about yourself that will. So, what I would say to freshman is- know that high school will change you. You won't be the same freshman-year version of yourself in four years time. You will be stronger, more mature, and most importantly, ready to face challenges head on with an unwavering sense of confidence. So, sit back and enjoy the moments. Don't let stress bring you down. Instead, have reassurance that you will be okay. Because, before you know it, high school will be gone in a blink of an eye.
What or who do you account for your academic success and ranking in the top 2 percent of your senior class?
I credit my time management skills for ranking in the top 2 percent. I kept myself on a schedule and avoided falling into a mindset ran by a tendency to procrastinate. I was heavily involved in clubs and dance but always kept school my number one priority. It was not only my habits that allowed me to maintain my ranking, though. I've always known I was loved and supported, and not a day went by that I thought I was alone. I knew I could turn towards my parents or sister for help. They have always pushed me to be the best version of myself, and making them proud has always been a motivation for me.
What are you learning about yourself and the world as we collectively face this global pandemic?
Throughout this pandemic, I've learned the importance of living in the moment. In a world that is encompassed by instant gratification, it is easy to always think about what is coming next, and hence, the present gets neglected. Yet, I realized that when I couldn't go out and see my friends or go places I enjoy visiting, the beauty of embracing each day. People shouldn't take things, whether that be people or places, for granted because nothing is ever guaranteed. Be thankful for what you have, and remember it's the small things that take up the most room in your heart.