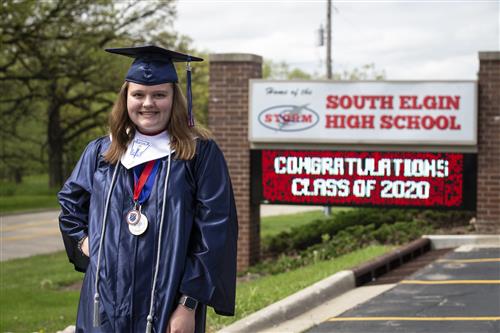 What school will you be attending in the fall?
University of Nebraska-Lincoln. I will also be in the Business Honors Academy!
Major/minor?
Accounting with a minor in Spanish
What is the most important thing you learned in high school?
I have come to learn that working hard and knowing how to manage your time will pay off in the end.
What is your favorite high school memory?
Playing on our school's badminton team and going to all-day invites, because we all support each other and have a great time!
What was your favorite class or learning experience?
My favorite class was AP Calculus BC, because my teacher, Mrs. Saxton, has always taught me that learning is the ultimate goal and that progress takes hard work and determination.
Share your best advice for incoming freshmen.
Challenge yourself freshman and sophomore year, so that by the time you get to junior and senior year, you will have already learned how to manage your time and succeed!
What or who do you account for your academic success and ranking in the top 2 percent of your senior class?
My parents and teachers have had a tremendous impact on my academic success. My parents have always encouraged me to try my best, and my teachers have always been there to support me when I have needed extra help. I definitely would not be where I am today without them!
What are you learning about yourself and the world as we collectively face this global pandemic?
I have come to realize how much I take for granted. Before all of this happened, going out to eat, traveling, and going to school was all so normal that it felt like a right. But now, I have come to appreciate all that I have been able to do and experience in the past.