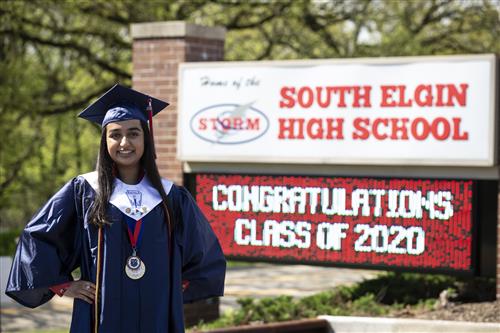 What school will you be attending in the fall?
Nova Southeastern University
Major/minor?
Major: Public Health, B.S/D.O. Program, Minor: Spanish
What is the most important thing you learned in high school?
Leadership requires commitment and intrinsic motivation. Every idea is meaningful. By focusing on your passions, you can work with others to create an objective impact in your community.
What is your favorite high school memory?
My favorite high school memory is attending the annual U-46 Student Summit. The summit always gave me an opportunity to interact and learn from other students and staff members. Collectively, as a group, we are improving our schools every year.
What was your favorite class or learning experience?
My favorite learning experience was being involved in the Health Sciences classes. My teachers, Ms. Malin and Dr. Doranski, guided me to understand health communication and the human anatomy. I loved going to the cadaver lab with my class to receive hands-on experience. The Health Sciences classes made me resolute in my decision to become a physician to ultimately serve our community.
Share your best advice for incoming freshmen.
Build long-lasting connections with your peers and teachers. Asking for help in academics or clubs is not a sign of weakness; instead, it shows that you are willing to become a better individual. Focus on progress because you will learn to give credit to others and yourself for putting forth your best efforts.
What or who do you account for your academic success and ranking in the top 2 percent of your senior class?
My family always motivated to find a healthy balance between academics, extracurriculars, and my personal life. I would also like to thank my teachers for going the extra mile to help me become academically successful. They often met with me and other students to review material before AP exams and summative assessments. My peers always encouraged me to focus on working hard and learning together.
What are you learning about yourself and the world as we collectively face this global pandemic?
Positivity can help all of us during this challenging time. While our lives are changing, we still have the opportunity to serve our community. We can still volunteer virtually and support those who just need to speak with a friend. By staying connected with people, we can overcome the challenges that we are facing during this pandemic.