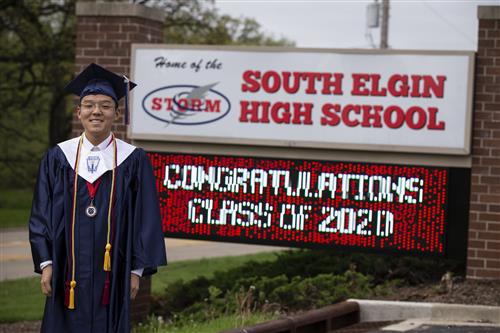 What school will you be attending in the fall?
University of Illinois Urbana-Champaign
Major/minor?
Biochemistry
What is the most important thing you learned in high school?
The most important thing I learned was the importance of time and how to manage it with such a busy schedule.
What is your favorite high school memory?
My favorite high school memory was my first friday night football game this year because my school installed lights.
What was your favorite class or learning experience?
My math classes, because my teachers truly cared about my education, and they were always free to answer any questions I had (shoutout to Mrs. Ozog and Mrs. Bowen.)
Share your best advice for incoming freshmen.
My advice for incoming freshmen is to stay focused but also not to be afraid to have fun. High school is a one-time experience, and although it was difficult at times for me, there were so many fun experiences I had. Balance will be the key to success in high school.
What or who do you account for your academic success and ranking in the top 2 percent of your senior class?
My parents are a big reason why I was able to rank in the top two percent. They've always pushed me educationally, and they allowed me to have fun whenever I needed a break from school. Without their support, I would not have been able to be successful and I want to thank them for everything.
What are you learning about yourself and the world as we collectively face this global pandemic?
As we get deeper and deeper into learning about this pandemic, I am realizing even more why I want to pursue a profession in medicine. As seniors, we are all obviously disappointed and discouraged that all of our hard work will not be recognized in a customary manner, but through all of this, I hope to learn more about what is truly important in our world. And right now, that is the health of those affected by the coronavirus.