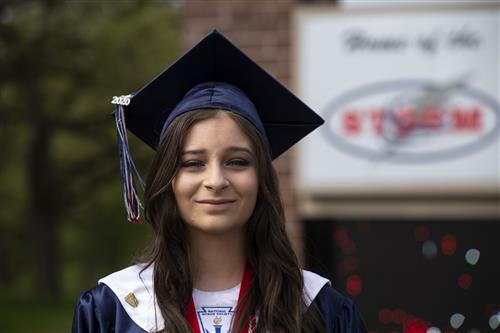 What school will you be attending in the fall?
Belmont University
Major/minor?
I am double majoring in Motion Pictures and New Emerging Media Journalism
What is the most important thing you learned in high school?
Although you'll hear this a lot, high school goes a lot faster than you think it will. All good and bad things come to an end and so does high school. One minute you're a freshman starting at a new school and the next you're spending your last day of school senior year without even knowing it would be the last time you walk through the halls. Even though not everyone will have the same unfortunate ending to their high school careers, it will go by so fast you don't even realize it, so make the most out of your four years.
What is your favorite high school memory?
My favorite memory of high school is definitely any moments from my BEACON classes. From BEACON breakfast bashes, karaoke day and Africa sing-alongs, our whole class fitting in the radio room to hide from Boz, being live on WGN at 5 am on Halloween, or flying to Washington DC for the STN convention with my class just to learn it had been canceled and leave at 3 o'clock that morning - hours before DC was shut down due to COVID 19, to name a few, none of these moments would have been possible without my amazing teachers and friends I have made through the program.
What was your favorite class or learning experience?
My favorite class was BEACON Media and Digital Arts. This class helped me find my passion through amazing hands-on learning experiences, classmates who support you and are passionate about the same careers, countless opportunities outside of school that have given me real-world experience, and lastly the best teachers ever who are there to help you succeed.
Share your best advice for incoming freshmen.
Try to get involved as much as possible. Every high school has tons of clubs and sports. Everyone can find something they like, or if not you can always make your own club! Through getting involved at my school I was able to find my lifelong friends and discover passions for things I would have never tried before. Even if you feel timid about not knowing anyone or trying something new, do it anyways, sometimes you won't know if you'll like it unless you throw yourself into it. So take some risks!
What or who do you account for your academic success and ranking in the top 2 percent of your senior class?
The amazing teachers who have pushed me through the years from elementary to high school, not by just standardly teaching us curriculum, but going above and beyond with fun ways to teach, being enthusiastic about what they do, and caring for each one of us on a personal level.
What are you learning about yourself and the world as we collectively face this global pandemic?
It is easy for all of us to fend for ourselves during a crisis like this, but it is beautiful how humanity decides to come together in unity instead. As our BEACON seniors continued our news show throughout quarantine, I have had the privilege to see firsthand and report on exactly how our community comes together at the times we need it the most. From our selfless healthcare workers, first responders, and other superheroes on the frontlines, to any other individuals who have made a difference by shining some light in this dark time, they all restore our faith in humanity.