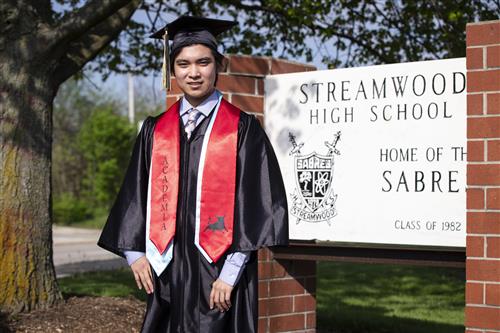 What school will you be attending in the fall?
Elmhurst College
Major/minor?
Biology (Pre-Med Track)
What is the most important thing you learned in high school?
In Homer's The Odyssey, Odysseus has been on a journey in the sea for the last twenty years trying to find his way back home. Along the way, he encountered notorious mythical creatures like the Sirens and Cyclops. In short, he conquered both his external and internal struggles with a valiant effort. Similarly, the most important lesson I learned in high school is to be resilient in times of hardships and difficulty. Whenever I face setbacks in my academics and personal life, I try to maintain my composure and determination in everything I do. With persistence, I am able to appreciate the arduous yet meaningful journey in life which has had a profound effect on my growth as a student and as a person. Our mistakes do not define us, but it is rather an opportunity for us to learn and discover our true potential as we navigate through the rough waters ahead of us. Instead of doubting ourselves and our capabilities, we must have confidence as Odysseus did throughout his perilous journey. I believe that every individual has the potential and power to attain their dreams in life only if they persevere throughout the whole process. Although Odysseus was drained from both exhaustion and frustration, he endured all the exigent trials he came across until he finally got home. This implies that our trials and obstacles are what makes us strong and tough. From time to time, there were moments in life that I thought to myself, "Why should I try if I am never good enough?" Do not let your fears and doubts take over you because it will only hinder you from succeeding later in life. The truth is that great efforts lead to abundant rewards. With proper discipline and hard work, I was able to withstand any storm that was on my path. And that is the benefit of having a growth mindset in life. Also, the endless support from my family, friends, teachers, and peers helped me carry on. They provide me with great strength and motivation to keep me going, especially when I feel discouraged and disappointed with myself. In terms of how I handle success, I am always consistent with my work ethic. Most importantly, a person who is successful must always remain humble. Resilience and courage is what Odysseus' story will forever remind us in order to succeed in life.
What is your favorite high school memory?
My favorite high school memory is probably the potluck and party we had in my classes, especially Global Studies. We do this tradition at the end of every quarter. It is the time to watch movies in class and bond with my friends. This is basically a form of relaxation from the intense workload we had. In addition, I also love our Homecoming week because I could go and watch football with my friends.
What was your favorite class or learning experience?
My favorite class was probably Global Studies which is integrated into the World Languages International Studies Academy curriculum at my school. This class taught me the voice and power I have as an individual. The coursework was rigorous, but it was eye-opening for me, especially the current event projects we did in class. In addition, I was proud to be a part of the museum we made for the public to bring awareness to the genocides that happened or are currently happening around the world. I found this class fascinating and interesting at the same time since much of history is ignored or forgotten. I was able to understand how the world came to be today because of this class.
Share your best advice for incoming freshmen.
My advice for incoming freshmen is to balance their academic and social life accordingly. In addition, keep trying to push your limits and challenge yourself. I can guarantee you that this will only prepare you for what's come after high school. Most importantly, do not compare yourself to others. Focus on your own growth as an individual and as a student. As Teddy Roosevelt once said, "Comparison is the thief of joy."
What or who do you account for your academic success and ranking in the top 2 percent of your senior class?
First and foremost, I would like to thank God for this blessing and opportunity. In addition, I would also like to dedicate this achievement to my parents for their unending love and support to me and my siblings. I love you, Mom and Dad. I hope that this award makes up for the great sacrifices you've made for me and my siblings.