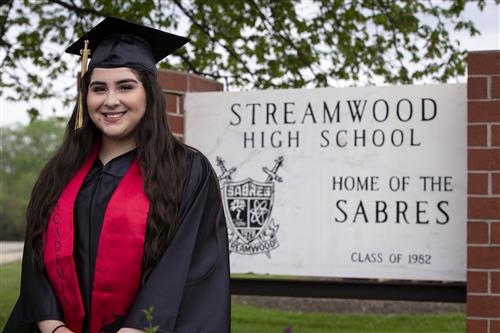 What school will you be attending in the fall?
Marquette University.
Major/minor?
Psychology.
What is the most important thing you learned in high school?
I learned that life goes on. There were many times I thought the worst thing in my life happened and I'm still alive.
What is your favorite high school memory?
My favorite high school memory is just making so many friends and having cool teachers. Sports were fun too.
What was your favorite class or learning experience?
My favorite class was Intro to Psychology! Mr. Fash is the best teacher I've ever had. He truly cares about his students and the subject is so fascinating.
Share your best advice for incoming freshmen.
Always always always put your mental health first. Don't stress yourself out too much. You and your mental health are more important than whatever you're stressing over.
What or who do you account for your academic success and ranking in the top 2 percent of your senior class?
My family always gave me endless love and support and I'd be nowhere without them. They pushed me to do great but not too much that I felt pressured into doing anything I didn't want to.
What are you learning about yourself and the world as we collectively face this global pandemic?
I'm learning that you just have to keep moving forward. I don't know what the future holds but I'll figure it out as we go on. I'm going with the flow.