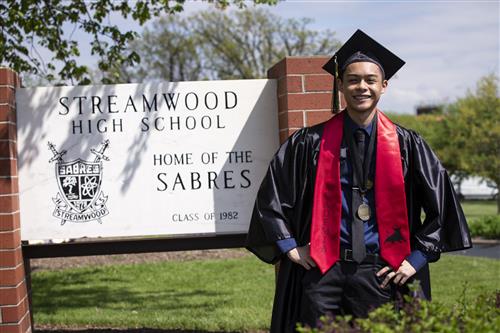 What school will you be attending in the fall?
Elgin Community College.
Major/minor?
I am undecided.
What is the most important thing you learned in high school?
Enjoy life and do what you can for yourself and most importantly, others
What is your favorite high school memory?
Having a good time with my classmates and meeting new friends.
What was your favorite class or learning experience?
Psychology and AP English Language. I learned a lot about myself and how and why people function the way they do.
Share your best advice for incoming freshmen.
Study hard, be yourself, and listen to a ton of music that makes you dance.
What or who do you account for your academic success and ranking in the top 2 percent of your senior class?
My youth group, family, and friends. They push me to be better and to work hard.
What are you learning about yourself and the world as we collectively face this global pandemic?
Not to take education or school for granted. Despite school sometimes feeling like an inconvenience, it is an opportunity to learn about yourself, the world, and what you can do to make things better. Be respectful and grateful for school, especially since others don't have the same opportunities.