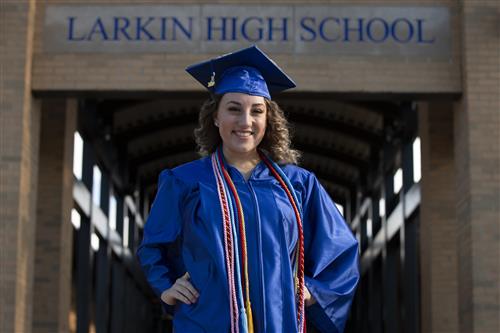 What school will you be attending in the fall?
Purdue University.
Major/minor?
Pharmacy.
What is the most important thing you learned in high school?
The most important thing I learned in highschool is to build close relationships with my teachers and mentors. Teachers genuinely want to help students succeed. When you work with your teachers and ask them for help, you can make a world of a difference in taking charge of your education.
What is your favorite high school memory?
My favorite memory from high school is when I performed at my senior recital for the magnet academy. I was able to share this special moment with my best friends, classmates, and family. I also learned a lot about myself as a musician.
What was your favorite class or learning experience?
My favorite class was AP Calculus. This class taught me the importance of having confidence in my abilities and not to give up - just because a class can be confusing. Knowing what kind of a learner I am has been a big part of gaining that confidence.
Share your best advice for incoming freshmen.
My biggest pieces of advice is to not disregard the importance of freshman year grades and to remember that you will find your friends eventually. High school does get better and having close friends to motivate you makes a difference.
What or who do you account for your academic success and ranking in the top 2 percent of your senior class?
I account my success to my hard work, the guidance of my teachers, and the support of my parents. My parents have always kept me focused and they taught me the importance of an education. With the mindset of where my education could take me, I was able to stay motivated and challenge myself to get where I want to be.
What are you learning about yourself and the world as we collectively face this global pandemic?
I have learned that it's important to keep looking forward to what the future holds. I never thought the end of my senior year would be like this, but thinking about what I have to look forward to has helped keep my spirits up.