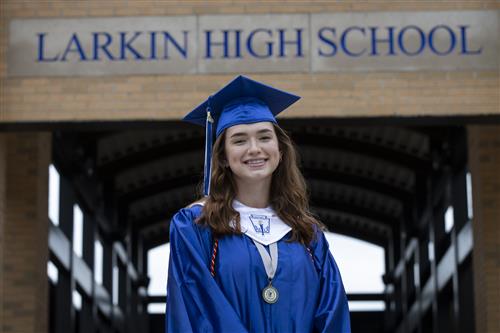 What school will you be attending in the fall?
Central Michigan University
Major/minor?
Sports Management
What is the most important thing you learned in high school?
The most important thing I learned was that most of the time things aren't going to go your way, just because you want them to. You've got to work to make your aspirations a reality.
What is your favorite high school memory?
My favorite high school memory is performing in four years of "Bring a Book to Life" shows for the dance academy.
What was your favorite class or learning experience?
My favorite class was the CNA class I took senior year. The classroom environment made it easy and fun to learn the material.
Share your best advice for incoming freshmen.
Stay focused on achieving the grades you want and get involved right away.
What or who do you account for your academic success and ranking in the top 2 percent of your senior class?
I can credit some of my academic success to my family and friends who supported me all the way through and never let me feel like I couldn't do it.
What are you learning about yourself and the world as we collectively face this global pandemic?
I have learned that sometimes we need to have more patience with ourselves and others.