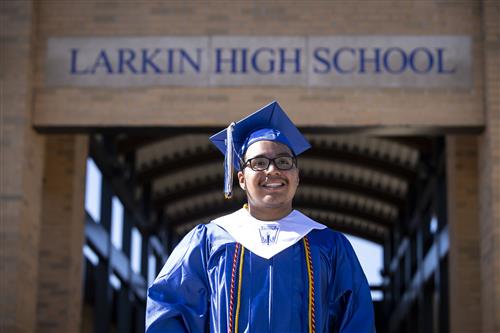 What school will you be attending in the fall?
Elgin Community College.
Major/minor?
Computer Science.
What is the most important thing you learned in high school?
Procrastination isn't always a bad thing, as long as you know how to manage it.
What is your favorite high school memory?
Paging in the main office and making a "PhD" for Mr Duty!
What was your favorite class or learning experience?
AP Calculus BC - Mrs. Overholt made calculus such a breeze with her simple, yet effective teaching skills.
Share your best advice for incoming freshmen.
While it is nice to be the straight A student, high school isn't supposed to be all about grades, get out there and enjoy yourself from time to time! These four years will fly by faster than you would think.
What or who do you account for your academic success and ranking in the top 2 percent of your senior class?
My older brother, Omar.
What are you learning about yourself and the world as we collectively face this global pandemic?
I'm slowly learning that getting out of the house and enjoying fresh air is great for mental health, however I'm also learning that this world can be quite a dangerous place. It only takes one person to be infected in order to spread that to millions of people. It's also nice how people have adapted to the social distancing concept so well!