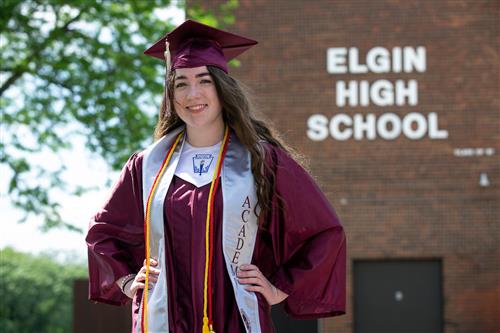 What school will you be attending in the fall?
University of Illinois at Urbana-Champaign
Major/minor?
Speech and Hearing Science
What is the most important thing you learned in high school?
The most important thing I learned in high school is that balance is key. It is definitely possible to play the sports you love, participate in fun clubs, and work a job all while getting good grades. Balance is important, but it's also something that everyone is still perfecting and can change constantly, which is what makes it the perfect lesson to begin learning in high school.
What is your favorite high school memory?
My favorite high school memory would be going to Europe with my fellow academy classmates. I had previously never even been on an airplane before, but now I can say that I have explored different countries with my classmates and teachers, and discovered a new passion for traveling and experiencing cultures around the world.
What was your favorite class or learning experience?
AP Biology was one of my favorite classes because of the variety of material we explored and the many hands-on activities we participated in. Whether it was exploring the creek or dissecting a pig, I learned many valuable academic skills that I know I will take with me to college.
Share your best advice for incoming freshmen.
My best advice for incoming freshmen would be to try anything and everything that seems remotely interesting. You never know what learning experiences or passions may arise from a club, sport, or organization that you join simply because it sounded fun. Even if you join something, just because your friend begs you to go with them, have an open mind and make the most of it!
What or who do you account for your academic success and ranking in the top 2 percent of your senior class?
I'm very fortunate to have an incredible support group composed of my friends, family, and teachers who were always willing to help me in any way, inside and outside of the classroom. I've always felt comfortable going to my teachers for help or asking for extra resources that sparked my interest. I think that my willingness to reach out is what has gotten me where I am today.
What are you learning about yourself and the world as we collectively face this global pandemic?
I am learning how adaptable everyone is able to be in a time of such uncertainty. Despite these confusing times, everyone seems very willing to do what they need to do to help others, no matter how difficult it can be. While everyone is apart right now, the sense of unity among everyone seems greater than it has ever been, as people are doing things now to save and protect others.