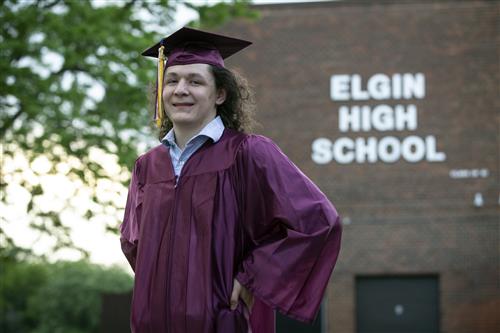 What school will you be attending in the fall?
Elgin Community College.
Major/minor?
I am currently preparing to get an associates degree in Arts.
What is the most important thing you learned in high school?
You can make friends with anyone, even if they are "different" than you.
What is your favorite high school memory?
Going to Steak & Shake/Culvers at the State chess tournaments with the team.
What was your favorite class or learning experience?
Freshman year, AP World History with Dr. Christopher E. Capps, the day the wage gap didn't exist.
Share your best advice for incoming freshmen.
Read the books you are assigned, or at least be really good at making it seem like you did.
What or who do you account for your academic success and ranking in the top 2 percent of your senior class?
To my parents. They gave me the gift of "smart genes" and taught me how to be diligent and hardworking.
What are you learning about yourself and the world as we collectively face this global pandemic?
Human connection between friends is one of the most important parts of life.