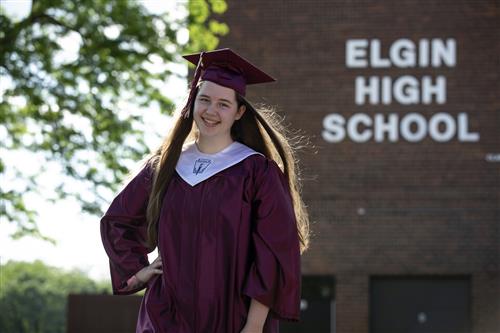 What school will you be attending in the fall?
DePaul University.
Major/minor?
Psychology.
What is the most important thing you learned in high school?
The most important thing I learned in high school was to never give up and try my best even if I didn't always succeed the first try.
What is your favorite high school memory?
My favorite high school memories are of football games and being surrounded by friends and peers.
What was your favorite class or learning experience?
Honors Physics was one of my favorite classes, mostly because my teacher made such a difficult topic fun and easy to understand.
Share your best advice for incoming freshmen.
Get involved!! Being involved in as many clubs as i could find definitely contributed to feeling part of something bigger than myself and gave me a sense of purpose.
What or who do you account for your academic success and ranking in the top 2 percent of your senior class?
My parents and teachers are the main contributors to my success as they not only push me to do my best but are also eager to help when I am struggling.
What are you learning about yourself and the world as we collectively face this global pandemic?
Throughout this global pandemic, I've realized that I am much more resilient than I thought I was.