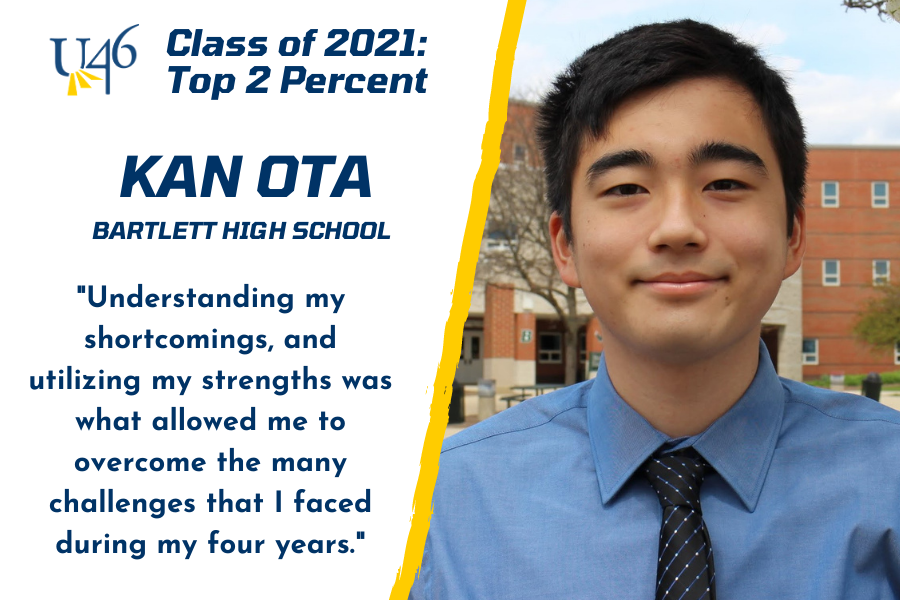 What are your post-high school plans?
After high school, I plan on attending the University of Illinois at Urbana-Champaign, where I will major in mechanical engineering, with a possible minor in business.
What is the most important thing you learned in high school?
One of the most important things I learned during my time in high school is understanding my weaknesses and strengths. High school taught me that as much as I would like to, I cannot manage to do everything all by myself. Understanding my shortcomings, and utilizing my strengths are what allowed me to overcome the many challenges that I faced during my four years. It also helped me to gain an appreciation for the unique strengths and weaknesses of others, leading to a greater overall understanding of how to make collaboration work.
What is your favorite high school memory?
My favorite high school memory was when our math team won the ICTM Regionals competition and qualified for State during our first-ever participation in the competition. Being able to be a part of a team that in a sense made history for our school brought me a tremendous amount of pride and excitement. As a board member of the team, it also made me feel extremely emotional seeing all the long hours and countless practices that I had put into the organization being paid off in such a rewarding and satisfying way.
What was your favorite class or learning experience?
One of my favorite classes during my four years at Bartlett was my Principles of Engineering class that I took during my sophomore year. The material the class covered was both exciting and challenging. However, the best parts of the class were the countless opportunities it provided us to engage in more hands-on experiences, such as building an automated trash truck robot, or making a thermal insulation unit out of organic materials. POE taught me so much about the engineering process, and reminded me of how fun engineering can and should be.
Share your best advice for incoming freshmen:
My advice to all incoming freshmen is to have fun. 4 years is too short and passes by really quickly. At the end of it all, the memories you will have of high school aren't going to be when you spent all night studying, or when you got a decent grade on an exam. As a senior, I can confidently say that my best memories have come when I decided to challenge myself, and try something new and exciting. Although it is important to get good grades and get into a good college, remember to breathe every once in a while and go out and have some fun.
What or who do you acknowledge for your academic success, and ranking in the top 2 percent of your senior class?
I would like to acknowledge my fellow Academy students for my academic success. Being able to be apart of such a great group of like-minded individuals for the last four years was what made high school enjoyable and worth attending. I truly believe that I would not have had the motivation to work so hard if it were not for my fellow peers pushing me forward, and making me feel the urge to not get left behind. Thank you again to the Academy Class of 2021 for making my high school experience truly special.
What life lessons or observations have you gained about yourself, and the world, during the 2020-21 school year?
During the 2020-21 school year I began to realize the importance of having a normal, routine life. In the past, things I took for granted such as going to school every day, and going shopping sometimes felt mundane and somewhat like a chore. However, having to spend most of my senior year alone in my room with a computer screen, has made me much more appreciative of the smaller and more routine things in my life. Now I feel as though I should spend more time appreciating and enjoying life before something causes it to change drastically.