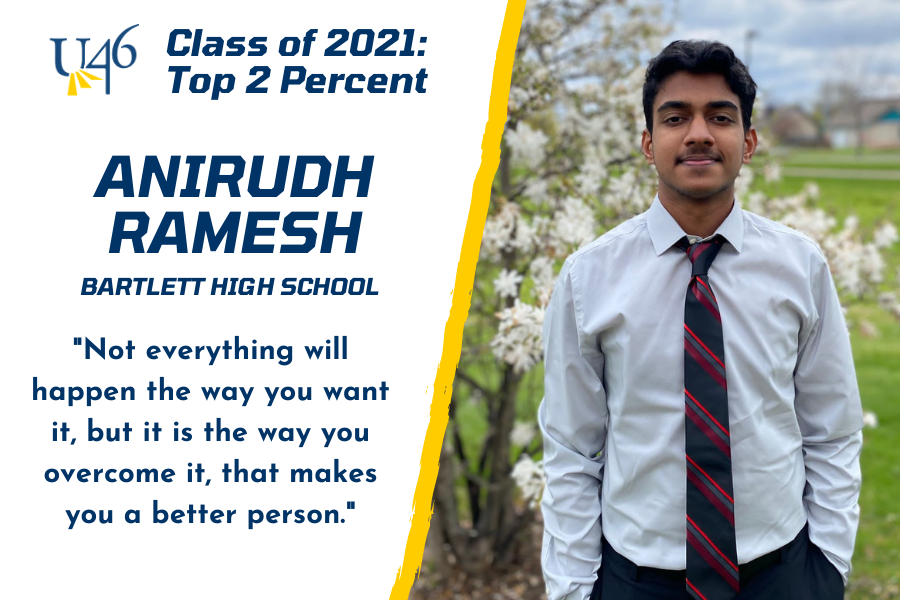 What are your post-high school plans?
I plan on going to UIUC, and majoring in computer science at the Grainger College of Engineering.
What is the most important thing you learned in high school?
How to present about myself, a topic, or an experience in front of a group of people, in a professional fashion. My freshmen year tech class helped with this immensely and I am grateful to have been a part of that group.
What is your favorite high school memory?
My favorite high school memory is when my new group of friends and I went bowling for the first time. This is when I had my first real bonding experience with a group of people, and it demonstrated how great these friendships will be.
What was your favorite class or learning experience?
My best learning experience was my statistics class sophomore year. This preparation class for the AP Statistics exam with Mrs. Quetsch taught me a lot, which allowed me to earn a five in the exam. She was a phenomenal teacher that taught in a way that resonated with me greatly.
Share your best advice for incoming freshmen:
My advice for freshmen students is to join clubs and activities at BHS. I have had great experiences at these clubs that shaped my high school life in a positive way. One of these clubs was SASA. I enjoyed practicing for the show as well as the other side events they held.
What or who do you acknowledge for your academic success, and ranking in the top 2 percent of your senior class?
I acknowledge my parents for pushing me towards success. I also acknowledge the teachers in the academy at the time that taught me a lot about the class curriculum as well as life.
What life lessons or observations have you gained about yourself, and the world, during the 2020-21 school year?
Not everything will happen the way you want it, but it is the way you overcome it that makes you a better person. Many have struggled during this pandemic, including me, but I always made sure to stay motivated and work hard towards my goals.